Sassy Liberty AMERICA'S FREEDOM FIGHTERS –
Despite assertions that Russian leader Vladimir Putin would not be meeting with U.S. Secretary of State Rex Tillerson, that meeting DID indeed occur today. Originally Tillerson was only scheduled to meet his Russian counterpart, Sergei Lavrov, with Putin emphatically stating that he would not meet with Tillerson.
Relations between the United States and Russia have grown so tense that it was unclear whether Putin would agree to see Tillerson.
ADVERTISEMENT - STORY CONTINUES BELOW
The meeting opened with remarks from Lavrov warning the U.S. against any and all attempts to attack Syria again after the missile strike heard 'round the world last week.
take our poll - story continues below
Whom do you consider to be the most corrupt Democrat Politician?
Completing this poll grants you access to AFF updates free of charge. You may opt out at anytime. You also agree to this site's Privacy Policy and Terms of Use.
Despite leftists clinging to their conspiracy theories otherwise, these actions plunged U.S.-Russian relations to one of the lowest points since the Cold War during the Reagan administration.
He nonetheless expressed a desire to work with the U.S., especially on counter-terrorism issues — in which the Trump administration has also declared an interest.
Sec. Tillerson with #Russia FM Lavrov: Our meeting today comes at an important moment in the relationship.
Remarks: https://t.co/O7AkYzCjZZ pic.twitter.com/BagP18WZrE

ADVERTISEMENT - STORY CONTINUES BELOW

— Department of State (@StateDept) April 12, 2017
After shaking hands with Tillerson, Lavrov stated –
"I will be frank, we have a lot of questions regarding very ambiguous and contradictory ideas on the international agenda in Washington and I'd like to say, apart from words, we saw some very alarming actions regarding the unlawful attack in Syria. It is of paramount importance to avert risks and recurrences of such actions in the future.

ADVERTISEMENT - STORY CONTINUES BELOW

We have seen just recent highly alarming actions, when there was the unlawful attack against Syria. We believe it fundamentally important not to let these actions happen again in the future.

I believe that your visit is quite timely. I believe that it gives us necessary opportunity, as it was discussed by President Trump and President Putin, to have an honest and frank discussion to clear the outlook for the future of our cooperation, first and foremost on the wide anti-terrorist front."
Tillerson acknowledged "sharp differences" between the two countries. He expressed hopes that the two governments can maintain open lines of communication, while also speaking candidly about ways to narrow those sharp differences going forward.
Tillerson, who was recognized with an Order of Friendship medal by the Russian government while he was the chief executive of Exxon Mobil, has taken on a tough line on Russia, ruling out any early end to sanctions unless the country returns Crimea to Ukraine and ceases meddling elsewhere. Tillerson stated the situation in the Ukraine will remain an obstacle in U.S. – Russia relations.
According to a statement released by the Trump administration on Tuesday, intelligence collected is believed to show Russia had advanced knowledge of the chemical strike on Syria, as well as Syrian forces carrying out the actual attack with deadly chemical weapons.  That attack led to the U.S. missile strike.  Russia denied any advanced knowledge of the attacks challenging the U.S. to provide proof.
#Russia wants investigation into #Sarin attack in #Syria and says will submit memorandum to #UN. But not to a resolution that blames #Assad.

— Ruth Sherlock (@Rsherlock) April 12, 2017
In a Wednesday morning interview on Fox Business, President Trump had strong words about a continued Syrian-Russian alliance, stating –
"If Russia didn't go in and back this animal, you wouldn't have a problem right now and frankly, Putin is backing a person that's truly an evil person. And I think it's very bad for Russia. I think it's very bad for mankind. It's very bad for this world."
However, President Trump has made it clear he is pushing for peace in Syria, stating "we're not going into Syria," but said pressure will be on Russia to ensure peace.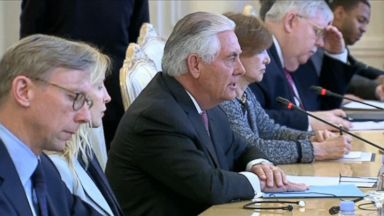 Putin, in turn, argued in an interview on Russian television that there is absolutely no proof Assad's forces carried out the attack and called the U.S. strikes a breach of international law. He went on to explain that confidence in an improvement in U.S.-Russian relations was lower now than it had been under the Obama administration.
Putin stated –
"The level of trust at the working level, especially at the military level, has not improved, but most likely has been degraded.

This reminds me very much of the events of 2003, when U.S. representatives in the Security Council showed alleged chemical weapons discovered in Iraq. The exact same thing is happening now."
After waiting for most of the day in meetings with Lavrov, Tillerson met with Putin.  The meeting lasted roughly two hours and with a very aggressive stance on the part of Russia, however, both parties state they considered the meeting a productive, successful one, despite significant disagreement on the salient facts surrounding Syria.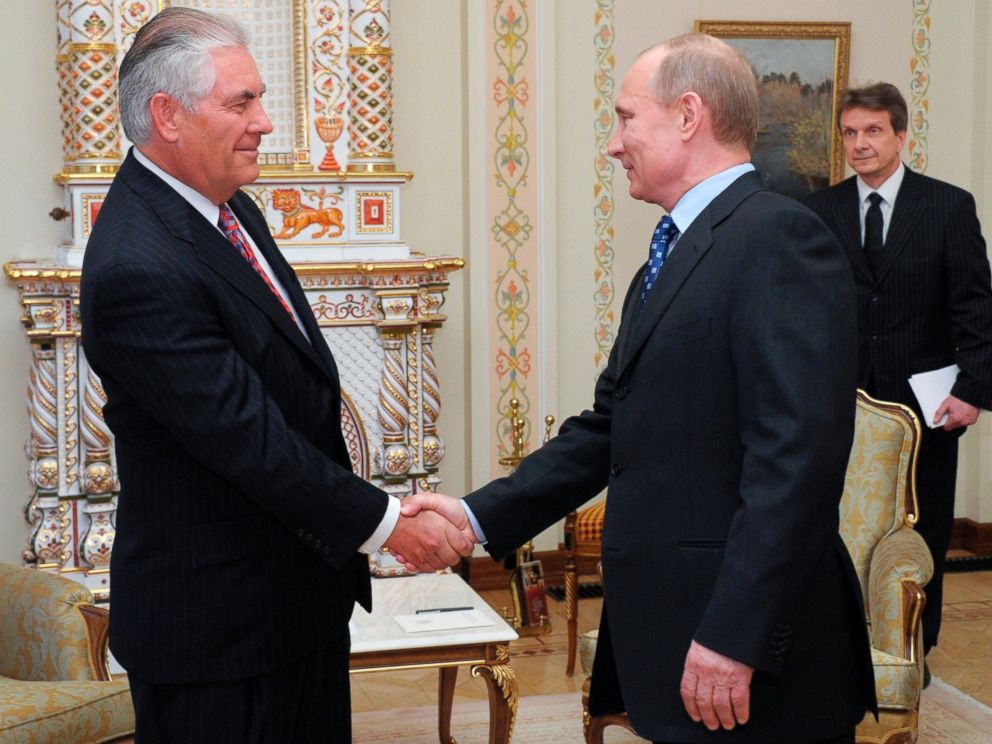 Moscow and Washington have agreed on the need for the United Nations to investigate the use of chemical weapons in Syria, as Russia continues to stand by the assertion that Assad did not conduct this most recent chemical attack against the Syrian people that left 89 people dead.
Both Tillerson and Putin state a desire to deny a safe haven for terrorists and in combating the Islamic state and a belief in a safe and prosperous Syria.  How that will be achieved, is where they differ.  Discussions ensued about the role NATO would play in the future with both expressing a need to attempt to put to an end the steady degradation of the relationship between Russia and the U.S.
It was suggested that Russia also would potentially have a constructive role to play in the known threat that is North Korea.
Lavrov pointed out that the killing of Osama bin Laden did not remove terrorism, then suggested that the U.S. would be perfectly okay with Al Queda regime taking over in Syria.
"A successful ouster of a dictator is very hard to remember," Lavrov said, inviting anyone to share a successful example with him.
Tillerson said the reign of the Assad family is "coming to an end," and they have brought this on themselves, with an emphasis on the need for Assad's departure to happen in an "orderly" way.
Tillerson stated –
"But the final outcome in our view does not provide a role for Assad or for the Assad family in the future governance of Syria. We do not think the international community will accept that, we do not think the world will accept that."
It seems the only final agreement either party came to was that talks need to continue between the two countries and that long road is ahead to improve relations between the two countries given the stark differences of opinion on key issues such as Syria and the Ukraine.
God Bless.
Here's How To Be Sure To Continue Seeing Our Content On Facebook
TOGETHER WE WILL MAKE AMERICA GREAT AGAIN!
Dean James III% AMERICA'S FREEDOM FIGHTERS
Please like and share on Facebook and Twitter!
Facebook Has Banned Us!
The leftists at Facebook decided they didn't like our message, so they removed our page and are censoring us. Help us fight back and subscribe to our newsletter so that you can stay up-to-date with everything Facebook doesn't want you to see!
Disqus Comments