Sassy Liberty AMERICA'S FREEDOM FIGHTERS –
The Glenn Beck/Tomi Lahren saga lives on!
Lahren is involved in a contentious battle for control of whether or not she will be able to maintain control over her Facebook currently with a 4.2 million fan base.
ADVERTISEMENT - STORY CONTINUES BELOW
Except….WAIT!
take our poll - story continues below
Whom do you consider to be the most corrupt Democrat Politician?
Completing this poll grants you access to AFF updates free of charge. You may opt out at anytime. You also agree to this site's Privacy Policy and Terms of Use.
Glenn Beck of TheBlaze is claiming ownership of the Facebook page and refuses to allow her to maintain ownership of the followers she built for the publication.
ADVERTISEMENT - STORY CONTINUES BELOW
Media personality Mark Dice even weighed in on the subject via Twitter referring to Beck as a "scumbag."
https://twitter.com/MarkDice/status/847569235177910273
ADVERTISEMENT - STORY CONTINUES BELOW
Beck suspended Lahren following a March 17 appearance on The View. During her discussion with the leftist lunatics on the show, Lahren was unable to withstand the pressure of being in an environment that's hostile to Conservatives.
After claiming to be pro-life just 3 months ago, she dropped a bombshell that she is pro-abortion, calling pro-life conservatives hypocrites, saying, "I can't sit here and be a hypocrite and say I'm for limited government but I think the government should decide what women do with their bodies."
Lahren is either a sellout who betrayed the people with whom she works or just so successful her former boss is lashing out at her in envy … these are the 2 sides of the coin in Tomi's suspension saga.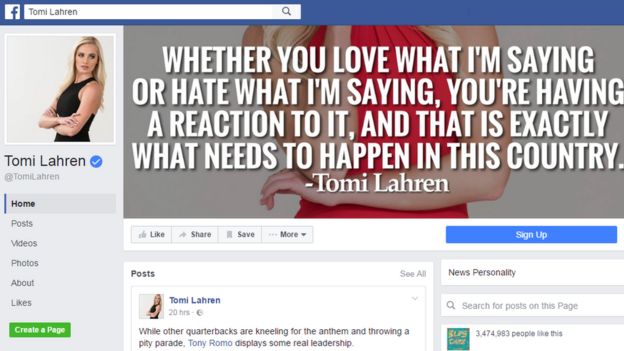 Some claim TheBlaze staff were furious over Tomi's comments claiming it was a betrayal of the core values that the network was supposed to stand for, as well as what Tomi herself was supposed to stand for. The suspension was inevitable to maintain peace in the ranks.
Yet others claim Glenn is withholding Tomi's Facebook page from her out of petty spite and jealousy over Tomi's popularity.
Either way, TheBlaze is in trouble.  It was founded seven years ago in Dallas and once boasted offices in New York and 300 employees. Now, the New York office is closed and the staff has shrunk to half that size.
Traffic is down significantly at TheBlaze.com.  The site attracted 29 million unique visitors per month in 2014. As of February 2017, there were only 8.8 million unique monthly visitors showing a loss of more than two-thirds of its traffic.
My friend Lady Liberty had this to say –
"While everyone is wrapped up in the media frenzy of who did what between The Blaze and Tomi Lahren many seem to be forgetting that the fight in this country is still raging. Let Tomi whine about her losses (self-induced). There are bigger problems then what "barely there" video Tomi is going to post next. Her dance moves are as lacking as her social and party values."
God Bless.
Here's How To Be Sure To Continue Seeing Our Content On Facebook
TOGETHER WE WILL MAKE AMERICA GREAT AGAIN!
Dean James III% AMERICA'S FREEDOM FIGHTERS
Please like and share on Facebook and Twitter!
Facebook Has Banned Us!
The leftists at Facebook decided they didn't like our message, so they removed our page and are censoring us. Help us fight back and subscribe to our newsletter so that you can stay up-to-date with everything Facebook doesn't want you to see!
Disqus Comments