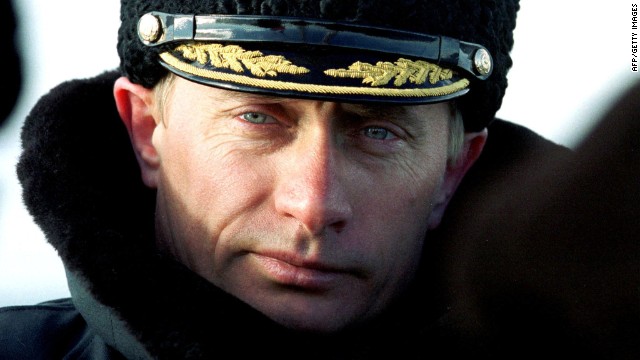 President of Russia Vladimir Putin started his political career as an officer in the KGB, The Soviet Union's feared secret police. He rose quickly through its ranks, eventually becoming the head of the KGB. His political acumen eventually took him to the highest office in Russia, but his personal quirks have always been a topic of fascination to Russians and foreign observers alike. The oddities of Vladimir Putin are many. Listed here are the top 10.
10. He helped fight a fire:
Putin is known for valuing personal bravery and often demands that the Russian media record his own feats. According to The Moscow Times, Putin acted as co-pilot in a firefighting plane in 2010. Though not a trained pilot, he held the throttle and pushed the button that dumped 24 tons of water on the forest fire. Whether Putin's "help" was appreciated by the real firefighters battling the blaze is not recorded in the Times story.
ADVERTISEMENT - STORY CONTINUES BELOW
9.He saved a television crew from a tiger attack:
take our poll - story continues below
Completing this poll grants you access to AFF updates free of charge. You may opt out at anytime. You also agree to this site's Privacy Policy and Terms of Use.
In another incident arranged for the media, Putin saved a television crew from a tiger attack. Putin was being filmed at a national park observing research on tigers in the wild in 2008 when a tiger became agitated and lunged for the crew. Putin shot the animal with a tranquilizer gun and then helped the researchers measure its teeth and put a radio transmitter around its neck. Putin later admitted that the scene, along with some of his other well-publicized adventures in the wild, was staged to help highlight the plight of endangered species.
8. Vladimir Putin was born on October 7, 1952 in St. Petersburg (then called Leningrad).
He was born into a Soviet Union in the midst of the cold war; a Soviet Union that was overcrowded and underdeveloped, even in its cities. Putin's family, like many others, endured difficult living conditions and Putin grew up in a rat-infested communal apartment that was shared with 2 other families. Putin has recounted in numerous interviews how he had to chase rats through his apartment building to scare them away.
ADVERTISEMENT - STORY CONTINUES BELOW
ADVERTISEMENT - STORY CONTINUES BELOW
7. Putin is fluent in German and reportedly knows English, but is not comfortable speaking it in public.
He has no problem, however, with singing in English. In fact, Kremlin insiders say that the Russian president loves to sing for an audience. In 2010 He sang "Blueberry Hill" with a jazz orchestra at a charity function in front of an audience of Hollywood stars and dignitaries in St. Petersburg. He also played a Russian song called "Where the Motherland Begins" on the piano. The assembled crowd gave him a standing ovation. He later recreated his performance during an appearance on CNN's Larry King Show.
6. Putin's obsession with being seen as macho is well known:
Perhaps this comes from the fact that he is short, standing only 5'6" tall. When asked about his height, Putin has steadfastly refused to discuss it and no public record is available of his official height, but observers have put it at somewhere between 5'5" and 5'7". Amateur psychoanalysts and the press have speculated that Putin has a Napoleon complex and that his recent aggressiveness toward Ukraine can be attributed to his short stature.
5. Putin is homophobic, but loves Elton John:
In 2013, Putin oversaw the implementation of draconian anti-gay laws and the official harassment of Russia's LGBT community. Paradoxically, he is a huge fan of Elton John. Putin has said, "Elton John, he's an extraordinary person, a distinguished musician. And millions of our people sincerely love him, regardless of his sexual orientation." This despite the fact that Elton John is a gay rights activist, and is in a same-sex marriage. In fact, under Putin's laws, Elton John could be arrested immediately if he were ever to go to Russia.
4.Putin is a dog lover:
Despite his macho image and his characterization by many observers as a neo-Soviet imperialist who presides over a brutal, corrupt and debased political machine, Vladimir Putin is a dog lover. He owns a black Labrador Retriever named Koni, who he takes to work with him and brings to all cabinetmeetings and meetings with foreign leaders, even those who are afraid of dogs, like Germany's Angela Merkel. Putin is frequently photographed petting dogs, holding dogs, kissing dogs and talking to dogs all over Russia and has said that he believes he can read dogs' eyes in order to understand their thoughts.
3. Putin's love life has been the subject of gossip in Russia for many years:
In 2013 Putin announced that he was divorcing his wife during the intermission of a ballet. In what was seen as an odd move even by veteran Putin observers, Putin used the brief time between 2 acts of a performance of the ballet "Esmeralda" to tell a single reporter that he and his wife of 30 years were divorcing. Putin has been rumored to have a long-term girlfriend, 30 year old Olympic gymnast Alina Kabaeva.
2. Putin keeps any information about his children completely secret:
Putin and his ex-wife Lydmilia have 2 daughters, Mariya, 27 and Yekaterina, 25. Photographs of the 2 as children exist, but they have never been publicly photographed as adults and even Russian Kremlin insiders don't know what they look like. Putin also refuses to allow any information about where they live, what they do for a living, or their marital status to be made public. As recently as 2005, Russian newspapers reported that the Putin daughters were going to university in St. Petersburg and even speculated about who they were dating. These speculations were quickly quashed by Putin's staff and since 2005, the whereabouts of the Putin offspring have been unknown.
1. Devout Orthodox Christian:
Despite having been born into a family of atheists in Soviet Russia, and despite the fact that as thehead of the KGB he purported to believe in all Socialist ideals including the non-existence of God, Putin is a devout Orthodox Christian. He has stated publicly that all Russian children should be taught religion and ethics in public school and that he never takes off the cross he wears around his neck. Some of his comments on religion have been more controversial, including one in which he equated homosexuality with satanism.
EXTRA: On the Criminal Blacklist in Finland:
In 2013, Finland announced that Putin was on a secret criminal blacklist. Finnish authorities explained that they thought the inclusion of Putin on a list alongside of some of Europe's most notorious organized criminals was a mistake and that they were looking into how he wound up on it. They later found that the error stemmed from Putin's association with a motorcycle gang in Moscow called The Night Wolves, some of whose members were, indeed, associated with organized crime. Putin was immediately taken off the blacklist. Ironically, the motorcycle gang that Putin rides with was formed to defend musicians' right to perform uncensored music.
VIA RICHTOP10.COM     top photo AFP/GETTY IMAGES
PLEASE SHARE OUR ARTICLES ON ALL SOCIAL MEDIA OUTLETS! 
THANK YOU!
Facebook Has Banned Us!
The leftists at Facebook decided they didn't like our message, so they removed our page and are censoring us. Help us fight back and subscribe to our newsletter so that you can stay up-to-date with everything Facebook doesn't want you to see!
Disqus Comments