Sassy Liberty AMERICA'S FREEDOM FIGHTERS –
Senator Nathaniel Thomas Oaks (Maryland-D) has been caught with his hands in the cookie jar!
Federal charges have been filed against Oaks for accepting illegal payments (i.e. bribes) in exchange for the use of his official position and influence to benefit people on multiple individual business related matters.
ADVERTISEMENT - STORY CONTINUES BELOW
take our poll - story continues below
Whom do you consider to be the most corrupt Democrat Politician?
Completing this poll grants you access to America's Freedom Fighters updates free of charge. You may opt out at anytime. You also agree to this site's Privacy Policy and Terms of Use.
According to the Department of Justice, a criminal complaint was filed charging the 70-year-old senator from Baltimore with honest services wire fraud.
ADVERTISEMENT - STORY CONTINUES BELOW
Oaks was a member of the House of Delegates from 1983 to 1989 when he automatically forfeited his seat after being convicted of theft charges for double-billing expenses both to the State for expenses performed in an official capacity and to his campaign fund.
After a losing bid to regain office in 1990, Oaks was re-elected in 1994 when several incumbent delegates retired, serving in the House of Delegates, representing District 41, Baltimore City as a member of the Health and Government Operations Committee.
ADVERTISEMENT - STORY CONTINUES BELOW
He was appointed Senator in February 2017.
If convicted, Oaks faces up to 20 years in prison.
Sen. Nathaniel Oaks released from federal custody after making first court appearance. Accused of accepting $15,300 during undercover probe pic.twitter.com/kXx2oigwJJ

— Jeff Abell (@JeffAbellFOX45) April 7, 2017
An affidavit filed with the court lists a person identified as "the Cooperator."  This person then introduced Oaks to an FBI confidential informant,  The affidavit refers to this person as CHS or confidential human source.  This person posed as an out-of-town businessperson interested in gaining contracts in Baltimore though a minority-owned business.  The affidavit simply refers to the business as "the Company" and it is an actually a real business run by a cooperating defendant also assisting the FBI in their sting operation.
The meeting in question between the two parties at a restaurant in Pikesville in September 2015.  The meeting was recorded where Oaks was heard to offer to help the CHS with his favor of business development within the state of Maryland. In the following months, many additional phone calls and in-person conversations occurred with Oaks where potential business development and opportunities were would be made available to the CHS in return for his monetary support. One such opportunity was a project with the Department of Housing and Urban Development or HUD.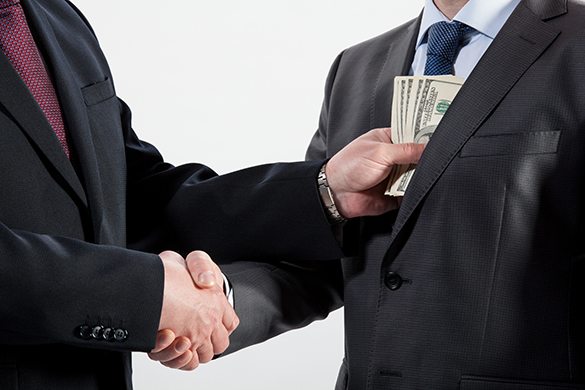 According to the affidavit, as of March 16, 2015, the CHS and Oaks discussed potential payment terms for Oaks' involvement and help.  Oaks then willingly and knowingly sent two separate letters on his official Maryland House of Delegates letterhead in support of the Project.  The letters allege false relationships between the CHS and Oaks, as well as about Oaks' involvement and knowledge of the Project in question. Oaks received monetary compensation in the amount of $10,300  for his assistance.
Oaks received an additional $5,000 in return for the filing of a  bond bill with the state's Department of Legislative Services requesting $250,000 for the Project.  Oaks filed for the bond later the very same day on September 22, 2016. According to Prosecutors, the CHS received a forwarded email on November 21, 2016.  A draft of the bill was attached to the email to establish the $250,000 bond in question for the Project. All monies paid to Oaks were FBI funds and all meetings were recorded.
LOCK THIS SCUMBAG UP!!!
God Bless.
Here's How To Be Sure To Continue Seeing Our Content On Facebook
TOGETHER WE WILL MAKE AMERICA GREAT AGAIN!
Dean James III% AMERICA'S FREEDOM FIGHTERS
Please like and share on Facebook and Twitter!
Facebook Has Banned Us!
The leftists at Facebook decided they didn't like our message, so they removed our page and are censoring us. Help us fight back and subscribe to our newsletter so that you can stay up-to-date with everything Facebook doesn't want you to see!
Disqus Comments