By Sassy Liberty AMERICA'S FREEDOM FIGHTERS –
American corporation Caterpillar is firing 300 American employees in their Mossville, Illinois office.  300 Americans will be without jobs even though CAT still continues to recruit and pay foreign "H-1B" guest workers to do the same white collar jobs sought by American professions in the United States.
This same decision was made by another American company – Carrier – in the neighboring state of Indiana.  Carrier chose to outsource 1,400 blue-collar factory jobs to Mexico.  Yet America continues to boast the highest corporate tax rate in the world with no incentive for businesses to keep American jobs HERE in AMERICA for AMERICAN WORKERS! Obama's answer to this issue? HIGHER TAXES!!
ADVERTISEMENT - STORY CONTINUES BELOW
Enter Donald Trump – considered an outsider as the GOP presidential candidate.  He has vigorously denounced the outsourcing of America's jobs, Carrier's air conditioning business to Mexico most recently.  His denouncement has helped him gain a 9 point polling advantage in Indiana.  Indiana is where I grew up.  It's full of farms and factories in the middle of America's Heartland. Parts of it have been decimated by Obama's policies, by the economy crash that happened in 2008/2009, the recent tornados, and to outsource even more jobs is just one more thing in a long string of many.  Trump's support for major reforms to the H-1B program to reduce the outsourcing of professional jobs, as well as blue collar jobs is raising his support among upper-income professional-class voters in many other states as well.
According to Neil Munro at Breitbart, the Caterpillar outsourcing "is all the same thing happening over and over again,' said John Miano, a lawyer and software expert who has sued the federal government to reduce or stop various outsourcing programs, such as the H-1B visa. "What we see is that companies ask for more [H-1B visas] while they're laying off the same kind of [American professionals] … this is going to be an election that decides whether this continues," Miano said.
Early in 2016, Caterpillar asked the federal government for 71 H-1B visas needed to hire foreign white-collar college-grads. At least 30 of the requested H-1B visas are for engineers and other skilled professionals in Mossville, which is suffering the most layoffs.
Since 2012, Caterpillar has requested 768 visas for H-1B workers. Roughly speaking, companies get one-fifth of the H-1B visas they request, suggesting the company has outsourced at least 100 U.S.-based jobs to lower-wage foreign graduates.
ADVERTISEMENT - STORY CONTINUES BELOW
The interesting thing to note is that at least 44 of those visa requested for this year are for foreign graduates that are already employed by Caterpillar within the US. These do not count against the annual limits on H1-B visas but are instead counted as "continuation" visas and automatically approved.  This also allows the government their "funny" math on the amount of visa outstanding within the US. These visas also help workers stay at least three years.  CAT also helps these immigrants get green cards which are a precursor to citizenship.  Most of these green card employees have replaced American software graduates.
The interesting thing about CAT is that here in America? They have a flexible workforce where they hire people on contract through temp services.  They will keep them on through these temp services paying Americans a fraction of what they would pay these foreign employees as they pay no benefits, no 401k, the salary is significantly lower, etc. Yet, immigrants are offered permanent positions within the company at the expense of seeking citizenship.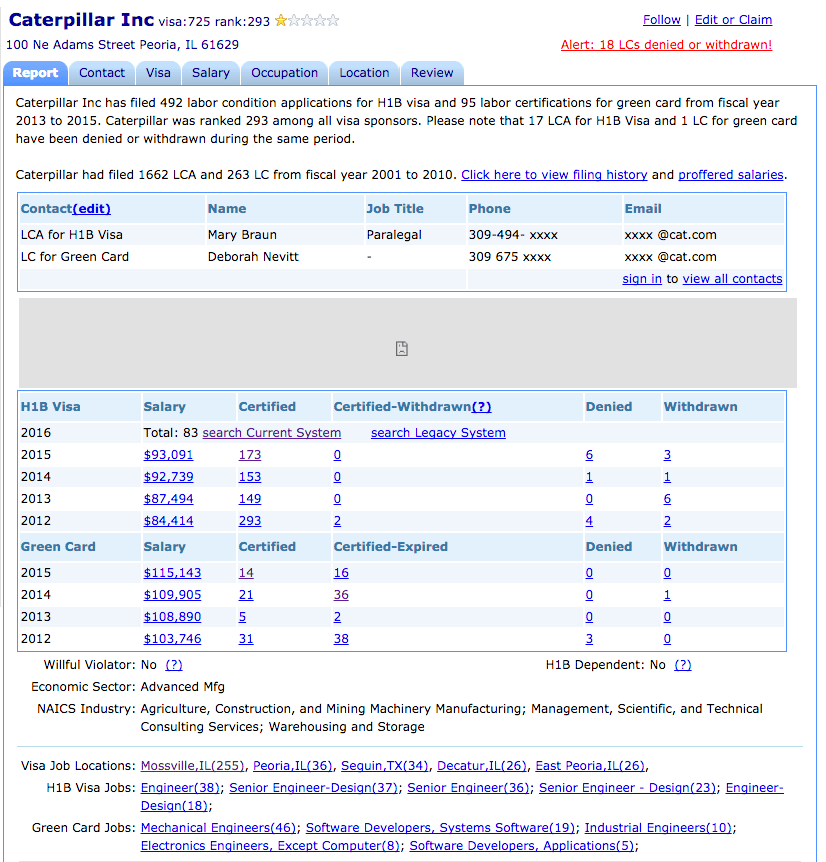 Most of the 650,000 outsourced H-1B jobs are in the information technology sector, where the imported professionals have lowered wages throughout the industry and forced middle-aged Americans into new, lower-paying careers — such as journalism — at just the time when they need good pay to help their children get a good education.
Many additional outsourced H-1B jobs are in business and finance, architecture anddesign, p.r. and media, health care, and teaching.
The wide variety of jobs shows how the H-1B outsourcing is reaching far beyond Silicon Valley. For example, companies such as CVS are increasingly using foreign college graduates to replace American pharmacists in Washington D.C., New York, and across the nation.
"If American professionals don't stand up soon, they'll be going the way of the auto workers and the factory workers in just a few years," said Miano.
take our poll - story continues below
Whom do you consider to be the most corrupt Democrat Politician?
Completing this poll grants you access to AFF updates free of charge. You may opt out at anytime. You also agree to this site's Privacy Policy and Terms of Use.
Sassy Liberty AMERICA'S FREEDOM FIGHTERS 
ADVERTISEMENT - STORY CONTINUES BELOW
God Bless.
VOTE FOR DONALD TRUMP AND TOGETHER WE WILL MAKE AMERICA GREAT AGAIN!
Dean James III% AMERICA'S FREEDOM FIGHTERS
 Please share this on all Social Media!
Facebook Has Banned Us!
The leftists at Facebook decided they didn't like our message, so they removed our page and are censoring us. Help us fight back and subscribe to our newsletter so that you can stay up-to-date with everything Facebook doesn't want you to see!
Disqus Comments