Sassy Liberty AMERICA'S FREEDOM FIGHTERS –
Slowly but surely we are finding out more about the Women's March in Washington D.C. A march that had little to do with empowering women and speaking for the voiceless, and more an effort to showcase organizations such as Planned Parenthood, which opposes Trump's anti-abortion policy, and the National Resource Defense Council, which opposes Trump's environmental policies. Essentially, it was a scheduled "Hate On Trump" day.
ADVERTISEMENT - STORY CONTINUES BELOW
take our poll - story continues below
Whom do you consider to be the most corrupt Democrat Politician?
Completing this poll grants you access to America's Freedom Fighters updates free of charge. You may opt out at anytime. You also agree to this site's Privacy Policy and Terms of Use.
As a woman who voted for Trump, I would not have been made to feel at all welcome, nor would many other women who reject the liberal ideology that pervaded the march, making white women feel unwelcome and refusing admittance or flat out canceling speakers or groups of women who oppose abortion. 
ADVERTISEMENT - STORY CONTINUES BELOW
Now we find that Soros has funded, or has close relationships with, at least 56 of the march's "partners," including Planned Parenthood and others.  Cecile Richards herself claimed a speaking role pushing her Soros' funded eugenics agenda. Other Soros' ties include the partisan MoveOn.org, which was EXTREMELY pro-Hillary, the National Action Network, which sang the praises of Obama senior adviser Valerie Jarrett as "a leader of tomorrow."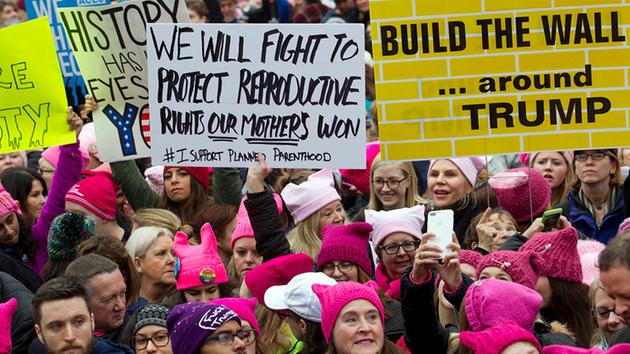 Soros grantees and partners included in the march included the American Humanist Association, American Atheists, American Civil Liberties Union, Center for Constitutional Rights, Amnesty International and Human Rights Watch. UnitedWomen.org, another Soros-funded partner, featured videos with the hashtags #ImWithHer, #DemsInPhily and #ThanksObama
ADVERTISEMENT - STORY CONTINUES BELOW
The "Woman's March" supposedly intended to stand up for equal rights for all women also included the Soros funded and notoriously ANTI-woman Council on American-Islamic Relations.  An Islamic organization that opposes even the most basic of freedoms to women, the Council on Islamic Relations or CAIR, enjoyed a major speaking role.  Zahra Billoo, executive director of the San Francisco chapter of CAIR spoke along with executive director of the Arab-American Association of New York, Linda Sarsour. Ieasha Prime, Islamic scholar and activist was also among the speakers.
Soros partnered and funded Southern Poverty Law Center was also heavily involved in this "march."  It was a regular who's who of who hates Trump and hates America.
At least 33 of the 100 "women of color," who initially protested the Trump election in street protests, worked at organizations that receive Soros funding, in part for "black-brown" activism. Of course, Soros is an "ideological philanthropist," whose interests align with many of these groups, but he is also a significant political donor. In Davos, he told reporters that Trump is a "would-be dictator."
Even former Miss Universe Alicia Machado made an appearance.  Additional speakers, some of them with ties to Soros, included –
Janet Mock – transgender
J. Bob Alotta, executive director of the Astraea Lesbian Foundation for Justice
Raquel Willis, communications associate at the Transgender Law Center
America Ferrera, actress
Ashley Judd, actress
Melissa Harris-Perry, television host
Michael Moore, leftist propagandist and filmmaker
Gloria Steinem, feminist
Aída Hurtado, feminist
Ilyasah Shabazz, activist and daughter of Malcolm X and Betty Shabazz
Maryum Ali, gang prevention activist and daughter of Muhammad Ali
Melanie Campbell, president of the National Coalition on Black Civic Participation
Roslyn Brock, chair of the NAACP's national board of directors
Randi Weingarten, president of the American Federation of Teachers
Muriel Bowser, mayor of Washington, D.C.
Along with a host of others that spoke at this supposed "Women's March." It seems that Soros will stop at nothing until he sees this country and the American way of life utterly destroyed, including funding rallies and so-called movements such as this one that promotes hatred and eugenics and oppression in unprecedented ways.  I watched some of the live streaming of the march myself and found it to be the most utterly disgusting display of selfish self-involved nonsense I have ever seen!
I don't see these women speaking for the millions of little girls aborted every day, many of them minority children.  There are on average 1,876 black children aborted every day.  Yet I saw not one person speaking for them.  What about the women and young girls sold to human traffickers every day? You know, the TRULY oppressed?
To these so-called feminists, YOU are not standing up for oppression. You are NOT speaking up for those who cannot speak for themselves. You are having a temper tantrum demanding that you be treated as superior simply because of the gender you happen to be born.
Facebook Has Banned Us!
The leftists at Facebook decided they didn't like our message, so they removed our page and are censoring us. Help us fight back and subscribe to our newsletter so that you can stay up-to-date with everything Facebook doesn't want you to see!
Disqus Comments