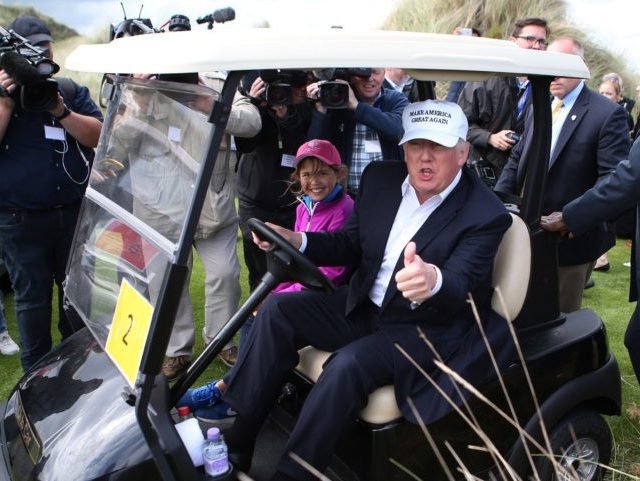 Sassy Liberty AMERICA'S FREEDOM FIGHTERS –
take our poll - story continues below
Whom do you consider to be the most corrupt Democrat Politician?
Completing this poll grants you access to America's Freedom Fighters updates free of charge. You may opt out at anytime. You also agree to this site's Privacy Policy and Terms of Use.
In what many view as another slight against the  GOP political establishment and Beltway right from President-elect Trump, he asked critical biographer Harry Hurt III to leave his West Palm Beach golf course on New Year's Eve. Hurt authored the 1993 book, Lost Tycoon: The Many Lives of Donald J. Trump and was a guest of David Koch – one-half of the billionaire Koch brothers duo. As a result, Koch was forced to leave with his guest, Hurt.
ADVERTISEMENT - STORY CONTINUES BELOW
ADVERTISEMENT - STORY CONTINUES BELOW
Hurt made many defamatory accusations against Trump in his book.  One of which stated Ivana Trump accused her ex-husband of "raping" her in a sworn deposition during their divorce. Ivana herself refutes this claim causing it to backfire, stating in a July 2015 statement –
"I have recently read some comments attributed to me from nearly 30 years ago at a time of very high tension during my divorce from Donald. The story is totally without merit. Donald and I are the best of friends and together have raised three children that we love and are very proud of. I have nothing but fondness for Donald and wish him the best of luck on his campaign. Incidentally, I think he would make an incredible president."
In a Facebook post published on the same day, Hurt recounted the incident in his own words:
Donald Trump personally booted the author of an unflattering biography off Trump International Golf Club in West Palm Beach on Friday. Harry Hurt III, who penned the 1993 biography, Lost Tycoon: The Many Lives of Donald J. Trump, had come to play with billionaire industrialist David. H. Koch, a Trump club member, and two other golfers. Hurt, who has a scratch handicap and plays in colorful knickers, walked over to Trump on the practice range prior to his group's assigned tee time, only to suffer a tongue lashing from the president-elect. "I said, 'Congratulations, sir,' and shook his hand," Hurt recalls. "Trump said, 'You were rough on me, Harry. Really rough. That shit you wrote.'" Hurt says he looked Trump in the eye, and said, "It's all true," to which Trump rejoined, "Not in the way you wrote it." Among the juicy tidbits in Hurt's tome was Ivana Trump's allegation in a sworn deposition that Trump had "raped" her during their divorce battle. Trump told Hurt it was "inappropriate" for him to play at the club, and had his security detail escort Hurt, Koch, and their playing partners to the parking lot. "David [Koch] was appalled," says Hurt. "He branded Trump 'petty' and vulgar.' We played Emerald Dunes instead, which is a much, much better golf course than Trump International."

ADVERTISEMENT - STORY CONTINUES BELOW
Both Charles and David Koch are well-known to have opposed Trump during the Republican primary season and they refused to help him during the general election.
According to Breitbart –
"…the Kochs appeared curiously unwilling to make any concessions to Americans who wanted populist, nationalist policies, and relief from the relentlessly eroding forces of mass immigration and globalization. A majority of voters— some of whom saw more demographic change take place in their communities than many countries saw in a millennia—want immigration slashed in half or reduced to zero. Trump captured that energy and it propelled him to the White House, much to the Kochs' and their network's chagrin.

The Kochs wanted candidates amenable to their will, and Trump didn't fit the bill. They considered him a distraction before he rocketed to first in the polls, and even toyed with the idea of spending tens of millions of dollars to attack him."
Trump continuously referred to the Koch brothers as puppets and mocked them via Twitter throughout his campaign. Trump repeatedly stated that neither was he for sale nor a puppet. It seems despite the deep pockets of the Koch brothers and the defamatory words of Hurt and the breathless mainstream media recounting of the same without bothering to fact check, Trump won the election in spite of them.  Just a few short weeks until Inauguration Day!
TOGETHER WE WILL MAKE AMERICA GREAT AGAIN!
Dean James III% AMERICA'S FREEDOM FIGHTERS
 Please share this on all Social Media!
Facebook Has Banned Us!
The leftists at Facebook decided they didn't like our message, so they removed our page and are censoring us. Help us fight back and subscribe to our newsletter so that you can stay up-to-date with everything Facebook doesn't want you to see!
Disqus Comments