Sassy Liberty AMERICA'S FREEDOM FIGHTERS –
Through out his campaign, President Trump was highly critical of the North Atlantic Treaty Organization dubbing it "obsolete." After a meeting with NATO's leader on Wednesday, it appears President Trump has had a change of heart stemming from a joint commitment to fight terrorism.
ADVERTISEMENT - STORY CONTINUES BELOW
During a joint press conference with NATO Secretary-General Jens Stoltenberg, President Trump stated –
"The secretary-general and I had a productive discussion about what more NATO can do in the fight against terrorism. I complained about that a long time ago and they made a change, and now they do fight terrorism. I said it was obsolete. It's no longer obsolete."
President Trump went on to express his hope that NATO will take an increased role in the fight against terror and the Islamic State.  Future plans were made for Army Gen. H.R. McMaster, national security adviser for the Trump administration, to visit Afghanistan in an effort to determine the best means to "make progress alongside our Afghan partners and NATO allies."
Many of President Trump's critics are noting the marked shift in his rhetoric and opinions regarding NATO, however, it seems even his critics agree the organization's members need to increase military spending.
ADVERTISEMENT - STORY CONTINUES BELOW
He claimed NATO was obsolete due to its inability to counter terrorism and was highly critical of the organization for its failure to live up to its defense spending requirements.
While liberals pearl clutch to the use of the word "obsolete" and jump up and down screaming "Trump said he would dissolve NATO" President Trump has actually be quite consistent in that he quantified his words in terms of simple monetary value.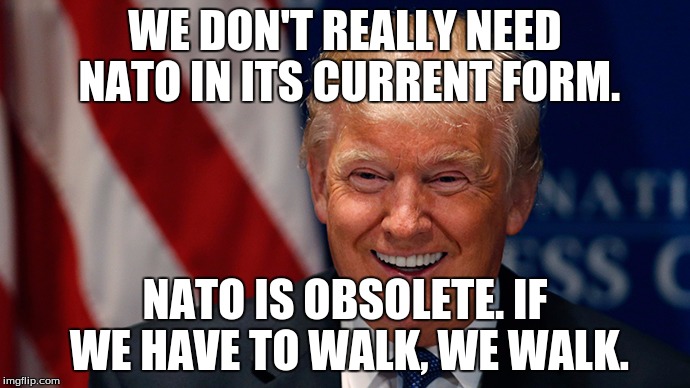 President Trump stated in a Sunday interview with the Times of London –
"A lot of these countries aren't paying what they're supposed to be paying, which I think is very unfair to the United States. With that being said, NATO is very important to me. There's five countries that are paying what they're supposed to. Five. It's not much."
The fact that the left loves to forget is that NATO's lack of defense spending has been an existing concern in Washington well before Donald Trump became the President-elect.  Prior to 2015, a measly FOUR members of NATO were actually meeting or exceeding the required 2% of the GDP defense spending requirement.  Of the organizations 28 members, currently only FIVE are meeting obligations –
the U.S.

Greece

United Kingdom

Estonia

Poland
Several countries that are considered MAJOR allies such as France, Germany, and Canada are WELL below the requirement. Several NATO members recognized the issue well before President Trump was even running for election, calling for defense spending increases across the board.
Some of these leaders have clashed with President Trump in the past, yet they still recognize the fundamental issue. Germany's Angela Merkel called for multi-billion dollar increase in Germany's defense spending in October in an effort to meet the 2% requirement.  French President Francois Hollande also called for an increase in French defense spending in July, obtaining an $666 million increase as compared to the year prior.
Even the Obama administration made a particular point to call out NATO allies for not doing their part in light of the Russia's aggression in eastern Ukraine and Crimea happening at the time.
U.S. Secretary of Defense Ash Carter state in April 2015 –
"They're not doing enough. They are spending a smaller share of their GDP than they have in the past, [than] we do now and [than] many, like Russia, are spending. It's too low."
While Sen. John McCain who serves as chairman of the Senate Committee on Armed Services criticized President Trump regarding NATO policy, he admitted in 2014 that NATO members fell woefully short and they MUST meet the 2% requirement.
NATO's chief, Secretary General Jens Stoltenberg, has repeatedly made note of the issue and pushed for more members to meet their obligations.
Secretary General Jens Stoltenberg said in an October interview with BBC Radio 4 –
"We have a problem and that's why we decided that we have to do something with the problem."
Yet despite the fact that everyone seems to acknowledge that there is indeed an issue that needs to be resolved, NATO spending is still woefully insufficient. The U.S. continually year after year shoulders the brunt of the burden with approximately 75 percent of NATO's total spending. That is 3.61% of GDP on defense.  The next highest-spending member?  Greece at only 2.38%.
It seems President Trump was right to call out this imbalance with accusations of NATO of unfair over-reliance on U.S. military power. It's all true! Perhaps now with this joint effort to fight the Islamic state, the issue can be resolved once and for all.
God Bless.
Here's How To Be Sure To Continue Seeing Our Content On Facebook
TOGETHER WE WILL MAKE AMERICA GREAT AGAIN!
Dean James III% AMERICA'S FREEDOM FIGHTERS
ADVERTISEMENT - STORY CONTINUES BELOW
Please like and share on Facebook and Twitter!
Facebook Has Banned Us!
The leftists at Facebook decided they didn't like our message, so they removed our page and are censoring us. Help us fight back and subscribe to our newsletter so that you can stay up-to-date with everything Facebook doesn't want you to see!
Disqus Comments