Dean James III% AMERICA'S FREEDOM FIGHTERS
At U.S. Immigrations and Customs Enforcement's (ICE) Homeland Security Investigations (HSI) partnerships are key to the success of the agency.
"With more than 10,000 members across 40 states, MS-13 is one of the most dangerous criminal organizations in the United States today," said Attorney General Jeff Sessions.
ADVERTISEMENT - STORY CONTINUES BELOW
"President Trump has ordered the Department of Justice to reduce crime and take down transnational criminal organizations, and we will be relentless in our pursuit of these objectives. That's why I have ordered our drug trafficking task forces to use every law available to arrest, prosecute, convict, and defund MS-13. And we are getting results. So far this year, we have secured convictions against more than 1,200 gang members and worked with our partners in Central America to arrest and charge some 4,000 MS-13 members. I want to thank the Department of Homeland Security, our federal law enforcement agents and prosecutors from the U.S. Attorneys' Offices and the Criminal Division's Organized Crime and Gang Section as well as Treasury, BOP, DOJ's OCDETF task force members, and all of our state and local law enforcement partners for their hard work. These 267 arrests are the next step toward making this country safer by taking MS-13 off of our streets for good."
take our poll - story continues below
Whom do you consider to be the most corrupt Democrat Politician?
Completing this poll grants you access to America's Freedom Fighters updates free of charge. You may opt out at anytime. You also agree to this site's Privacy Policy and Terms of Use.
Whether on the local, state or federal level, effective collaboration with other law enforcement partners is an essential part of the criminal investigations HSI conducts, such as the recently completed "Operation Raging Bull."
Transnational criminal street gangs represent a significant threat to public safety in communities throughout the United States. HSI's National Gang Unit (NGU) is a critical part of ICE's mission to bring the fight to transnational criminal gangs. The NGU identifies and develops intelligence on gang membership, associates, activities and international movements.
The unit develops strategic domestic and foreign law enforcement partnerships and utilizes those partnerships, along with all of its unique legal authorities, to target gangs, to suppress violence and prosecute criminal enterprises.
ADVERTISEMENT - STORY CONTINUES BELOW
"Operation Raging Bull" was a two-phase operation that targeted dangerous gang members and others providing financial support to gang leadership in El Salvador.  It received significant support from ICE's Enforcement and Removal Operations, U.S. Customs and Border Protection (CBP), U.S. Citizenship and Immigration Services (USCIS), the U.S. Department of Justice, U.S. Department of Treasury and international law enforcement partners.
ADVERTISEMENT - STORY CONTINUES BELOW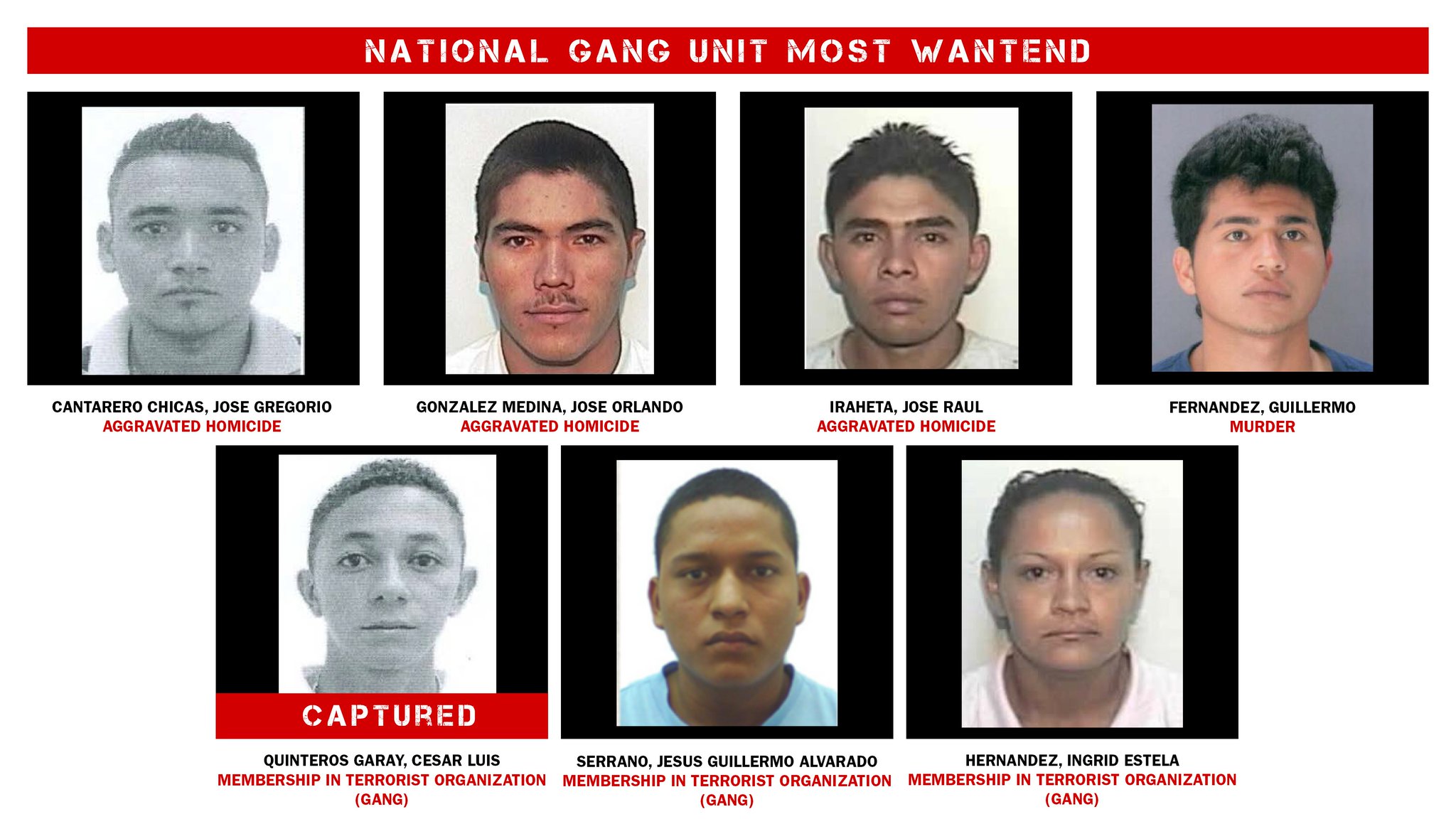 "The problems posed by transnational gangs cannot be tackled by one agency alone," said HSI New York Assistant Special Agent in Charge (ASAC) in Long Island, Jason Molina. "It requires multiple agencies working together in a coordinated effort."
In May of 2016, after several months of unprecedented violence, it was evident that there was a serious problem with the proliferation of MS-13 and other transnational criminal gang activity in Long Island, New York.  Although criminal arrests of gang members were being made, homicides in the area continued.  It was clear that law enforcement was not going to be able to arrest their way out of the problem.  This issue required a proactive approach, instead of being reactive and waiting for the crime to be committed.
As a result, Operation Matador was launched on May 9, 2017. HSI, using its unique immigration authorities that are essential in combatting transnational criminal organizations, teamed up with other agencies within the U.S. Department of Homeland Security (DHS), creating  a DHS unified front. This team worked closely with the Suffolk County Police Department, Nassau County Police Department and the New York City Police Department creating several components to this operation.
Within the first 30 days, law enforcement personnel arrested 39 MS-13 members. To date, approximately 342 arrests have been made to include 183 MS-13 members and associates.
Today @DHSgov, @TheJusticeDept officials will announce the results of a national operation led by ICE HSI targeting MS-13 gang members & associates. Watch LIVE at 1 PM: http://ice.gov/live "
Today @DHSgov, @TheJusticeDept officials will announce the results of a national operation led by ICE HSI targeting MS-13 gang members & associates. Watch LIVE at 1 PM: https://t.co/rsz9xPzucI pic.twitter.com/WS3c5MNMHv

— ICE (@ICEgov) November 16, 2017
HSI has committed great resources to this fight. There is an entire team that is solely responsible for identifying gang members. Once identified, arrest teams are deployed to locate and arrest these members.  "We are taking them off the streets one by one, debriefing them and exploiting any information disclosed. We push all of it through our intelligence components and back into our investigations," said Molina.
Local law enforcement partners provide actionable intelligence which is critical in the targeting of gangs and their membership for enforcement actions. HSI special agents use intelligence gathered from surge operations to pursue complex criminal enterprise investigations and federal prosecutions.
"The Suffolk County Police Department is committed to eradicating MS-13 from our communities, and that would not be possible without close collaboration with our law enforcement partners in HSI," said Suffolk County Police Commissioner Timothy D. Sini. "Through strategic targeting of gang members, focusing on known hot-spot locations frequented by gang members and sharing intelligence with our fellow law enforcement agencies, we have continued our successful efforts to remove MS-13 members from our streets."
HSI works very closely with its state and local law enforcement partners to identify known gang areas and front line intelligence.  "That raw intelligence from the boots on the ground is key to our investigations in Nassau and Suffolk County," Molina said. "Our local law enforcement partners are the key force multiplier. They have ears to the ground and know the communities that they're policing."
HSI prioritizes transnational gangs that are a threat to the public.  For MS-13, "Kill. Rape. Control." is their motto. Their power comes through violence. This gang believes that the more violent they become, the fear in the community in increased, and capitalizing on that fear makes them more powerful.
The biggest concern when conducting operations such as Raging Bull is public safety. The communities are living in fear. They are losing family members at very young ages, often by perpetrators who are also very young, which has been eye-opening for investigators.
Since 2005, HSI special agents, working in conjunction with their partners, have made nearly 60,000 gang-related arrests; more than 7,700 of those being members or associates of MS-13. As these gangs have evolved, so have the tactics HSI uses in its investigations.
HSI's local partners know the people in the communities. According to Molina, in order for the collaboration to continue to be successful, local officials must remain engaged with the community in which their serve. That includes letting them know who HSI is and why the special agents are there.
"The Nassau County Police Department has always enjoyed a cohesive relationship with HSI and ICE to combat crime and arrest the individuals associated with it," said Nassau Commissioner of Police Patrick Ryder." Moving forward we will continue to work toward this common goal with continuous exchanges of resources and intelligence to keep our communities, residents and our children safe."
The outreach in schools and community centers, along with educating the local communities on who they can report to if they're approached by MS-13, helps law enforcement personnel at all levels fight these criminal enterprises.
Said Molina:  "The federal agents and police departments can't do it alone. Yes, we need each other, but we also need the community."
Source –ICE
TOGETHER WE WILL MAKE AMERICA GREAT AGAIN!
Dean James III% AMERICA'S FREEDOM FIGHTERS
Please like and share on Facebook and Twitter
Facebook Has Banned Us!
The leftists at Facebook decided they didn't like our message, so they removed our page and are censoring us. Help us fight back and subscribe to our newsletter so that you can stay up-to-date with everything Facebook doesn't want you to see!
Disqus Comments