Sassy Liberty AMERICA'S FREEDOM FIGHTERS –
The Trump administration and federal immigration authorities are on a roll.  With massive sweeping arrests resulting in at least 160 illegal aliens over the course of the last several days and crossing several state lines.
According to Department of Homeland Security spokesperson Gillian Christensen "routine" immigration enforcement actions were taken this week in Los Angeles, California; Atlanta, Georgia; and two other cities that were not identified.
ADVERTISEMENT - STORY CONTINUES BELOW
This was an unprecedented step as a coordinated effort between ICE and DHS with enforcement action taking place at both homes and workplaces alike. The first round of Trump-era deportation sweeps had begun.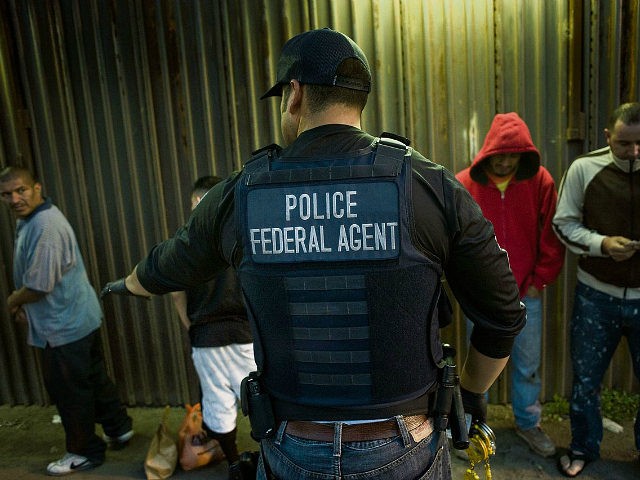 take our poll - story continues below
Whom do you consider to be the most corrupt Democrat Politician?
Completing this poll grants you access to AFF updates free of charge. You may opt out at anytime. You also agree to this site's Privacy Policy and Terms of Use.
Just a short time ago Senator Kevin de Leon (D-Los Angeles) was bragging on the California state Senate floor about how more than half of his family was in the United States illegally, then added insult to injury by brag about how he felt it was perfectly acceptable for these members of his family and others to utilize fraudulent government documents to support themselves at the expense of hardworking Americans.
ADVERTISEMENT - STORY CONTINUES BELOW
In a twist of irony, Sen. de Leon's district was hit especially hard with immigration attorneys across the city of Los Angeles getting calls from clients all across the city with reports of being picked up by  ICE agents at home, work, and even one man being detained at a local Target store. Even more ironic is that California itself recently presented legislation via Sen de Leon to make California a sanctuary state in utter defiance of Trump administration's tough stance on illegal immigration and sanctuary cities.
As many as 134 immigrants were detained in one sweep, with some even being sent back to Mexico as early as Thursday afternoon. Immigration rights activists are up in arms, holding vigils in ICE's downtown Los Angeles field office and on Thursday an estimated 100 to 150 protesters blocked a nearby highway on-ramp.
ADVERTISEMENT - STORY CONTINUES BELOW
By Friday, ICE confirmed via an afternoon press release that 160 immigrants were arrested during what it called a "five-day targeted enforcement operation" in Southern California that was "aimed at at-large criminal aliens, illegal re-entrants, and immigration fugitives." Of the 160, ICE claimed that 150 had criminal histories, and that 5 of the remaining 10 had final orders of removal or had been previously deported. The release stated"many of the arrestees had prior felony convictions for serious or violent offenses."
This sweep was the 2nd time that ICE has found itself at the center of high profile action in less than 2 days.  On Wednesday evening, immigration agents were 
swarmed
by protesters for doing their jobs as they 
attempted to deport
Guadalupe García de Rayos, a 35-year-old Mexican illegal and convicted felon with active deportation orders with two teenage children who are American citizens. She was caught using a fake Social Security number during an ICE workplace raid in 2008.
The Obama administration continued to allow her to walk free despite her felony conviction and active deportation orders. Her recent deportation to Nogales, Mexico is a firm indication that the Trump administration will NOT be following the same policies.
Leftist leaning Vox is  sure to point out that the Trump administration plans to send all illegal immigrants home for "acts that constitute a chargeable offense"  – which could mean everything from entering the country illegally to driving without a license according to author Dara Lind. ICE has consistently said it will "focus on identifying and removing individuals with felony convictions who have final orders of removal."Additional deportation raids and removal operations are ongoing with others that have taken place – in Atlanta, Chicago, and New York during the week. And Rep. Joaquin Castro (D-Texas) tweeted Friday afternoon about additional ICE activity in South and Central Texas:
I'm concerned about the ICE raids in Texas. My statement: pic.twitter.com/SeeDSwAmyM

— Joaquin Castro (@JoaquinCastrotx) February 10, 2017
DEPORT AND BUILD THE WALL! 
h/t – Breitbart
God Bless.
Here's How To Be Sure To Continue Seeing Our Content On Facebook
TOGETHER WE WILL MAKE AMERICA GREAT AGAIN!
Dean James III% AMERICA'S FREEDOM FIGHTERS
Please like and share on Facebook and Twitter!
Facebook Has Banned Us!
The leftists at Facebook decided they didn't like our message, so they removed our page and are censoring us. Help us fight back and subscribe to our newsletter so that you can stay up-to-date with everything Facebook doesn't want you to see!
Disqus Comments