Sassy Liberty AMERICA'S FREEDOM FIGHTERS –
Self-proclaimed communist George Ciccariello-Maher appeared on Tucker Carlson in his efforts to defend his disgusting and inflammatory comments concerning an act of kindness from an airline passenger when they gave their first-class seat to a U.S. soldier.
Apparently, an act of kindness is worthy of illness?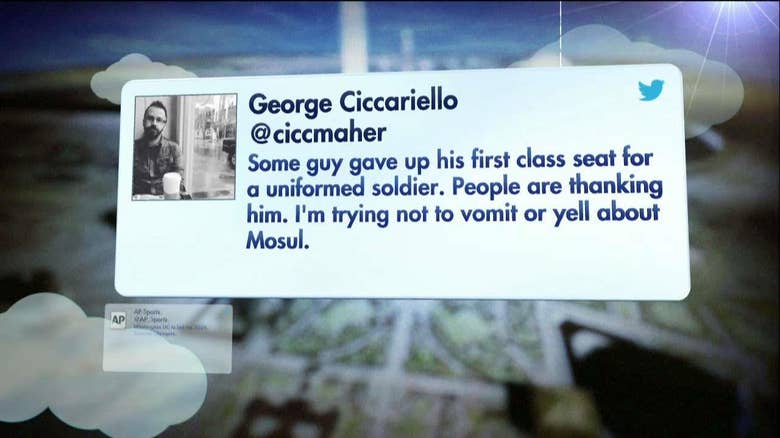 ADVERTISEMENT - STORY CONTINUES BELOW
Ciccariello-Maher, an associate professor of politics and global studies at the college, took to Twitter Sunday morning to say: "Some guy gave up his first class seat for a uniformed soldier. People are thanking him. I'm trying not to vomit or yell about Mosul."
This is the same jackass asked for "white genocide" for Christmas.
Tucker Carlson of Fox News proved he was up to the task to dress down the little man as he attempted to defend the indefensible.
ADVERTISEMENT - STORY CONTINUES BELOW
Ciccariello-Maher argued that it's "irresponsible" to blindly support wars that lead to the deaths of Americans and foreign civilians.  Tucker was quick to school him about his misdirected outrage, stating that Ciccariello-Maher's issue appears to be with U.S. foreign policy-makers, yet he is blaming the soldiers.
Tucker stated –
"Why is it bad to give them a first-class seat? Somebody's trying to be nice to guy who's going through all these hardships … and that makes you mad. Why?"
Ciccariello-Maher claims he was "misrepresented by the outrage machine that is right-wing media."
I am a little unclear what EXACTLY there is to misrepresent, Georgie?  Your statements were pretty clear!
Conservative columnist Kurt Schlichter called Ciccariello-Maher an "irrelevant".  Another blogger asked the obvious question of why parents would spend $42,000 per year to send their kids to the West Philadelphia school that employs him.
Rather than backing off when pressed, Ciccariello-Maher doubled down with claims that the giving of the first class seat was an "empty gesture." He wants to see policies that actually help the men and women of the U.S. military and innocent civilians.
Okay, sure.  I can get behind that.  But how is what YOU are doing accomplishing those things?
 Answer?  It isn't.
It's allowing you to be a pompous, self-important, ignorant, sorry excuse for a "man" that uses social media to spout hateful ignorance.
Tucker called him on his BS noting that Ciccariello-Maher made his tweet about the first-class seat protected, which prevented the public from seeing it.
Then Tucker stated –
"If you're proud of what you think and you can defend what you think, why did you do that?" 
Ciccariello-Maher has a history of "hate speech" calling for the deaths of others due to race, yet it never seems to dawn on him that he HIMSELF is considered white.

He would not have the BALLS to serve beside our finest. All this blowhard can do is run his mouth.
But don't worry, the professor say's he's not "alt-left" villain… no, instead he's just a communist.
PATHETIC!
Watch the interview as seen on Tucker Carlson Tonight!
God Bless.
Here's How To Be Sure To Continue Seeing Our Content On Facebook
TOGETHER WE WILL MAKE AMERICA GREAT AGAIN!
Dean James III% AMERICA'S FREEDOM FIGHTERS
Please like and share on Facebook and Twitter!
Facebook Has Banned Us!
The leftists at Facebook decided they didn't like our message, so they removed our page and are censoring us. Help us fight back and subscribe to our newsletter so that you can stay up-to-date with everything Facebook doesn't want you to see!
ADVERTISEMENT - STORY CONTINUES BELOW
Disqus Comments