Social media giant Twitter allowed the violent threat "Rape Melania" against incoming First Lady Melania Trump to trend after the site exploded with assassination threats against President-elect Donald Trump…
Sassy Liberty AMERICA'S FREEDOM FIGHTER –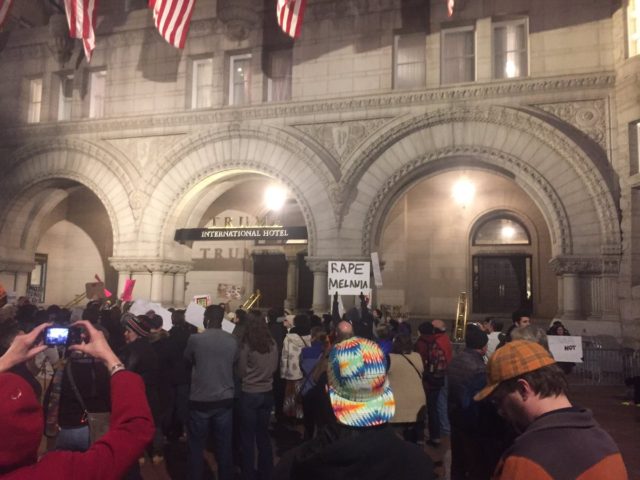 ADVERTISEMENT - STORY CONTINUES BELOW
take our poll - story continues below
Whom do you consider to be the most corrupt Democrat Politician?
Completing this poll grants you access to AFF updates free of charge. You may opt out at anytime. You also agree to this site's Privacy Policy and Terms of Use.
#LoveTrumpsHate is apparently what the left means when it holds up a sign stating "Rape Melania." Is this what the left means when they preach, "when they go low, we go high?" The sign went viral creating a hashtag #RapeMelania with more than 32k tweets at this time. Interesting, how Milo Yiannopoulos received a lifetime ban from Twitter after a run-in with Leslie Jones of the epically bad Ghostbusters remake fame.
ADVERTISEMENT - STORY CONTINUES BELOW
Twitter itself made a statement in response to the Milo ban –
People should be able to express diverse opinions and beliefs on Twitter. But no one deserves to be subjected to targeted abuse online, and our rules prohibit inciting or engaging in the targeted abuse or harassment of others. Over the past 48 hours in particular, we've seen an uptick in the number of accounts violating these policies and have taken enforcement actions against these accounts, ranging from warnings that also require the deletion of Tweets violating our policies to permanent suspension.

ADVERTISEMENT - STORY CONTINUES BELOW

We know many people believe we have not done enough to curb this type of behavior on Twitter. We agree. We are continuing to invest heavily in improving our tools and enforcement systems to better allow us to identify and take faster action on abuse as it's happening and prevent repeat offenders. We have been in the process of reviewing our hateful conduct policy to prohibit additional types of abusive behavior and allow more types of reporting, with the goal of reducing the burden on the person being targeted. We'll provide more details on those changes in the coming weeks.
So what now? Where is the curbing of abuse when it comes to the advocating of the rape of the wife of our President-Elect, the soon-to-be first lady? Twitter it seems follows the ranks of many sites with a liberal bias where abuse, threats of harm, cyber bullying and the like are all acceptable as long as they are directed towards Republican or Conservative targets.
These people cite free speech when they scream "Rape Melania" and "Assassinate Trump" yet, "run them over" in response to a Black Lives Matter protest where folks were blocking roadways leads to a suspension for "inciting violence." Twitter has routinely removed pro-Trump trending topics and manipulated hashtags that directed negative sentiment towards failed Democratic presidential candidate, Hillary Clinton during the contentious 2016 Presidential Election. Twitter was accused by various users of censoring the DNC Wikileaks story and stories from outlets like Project Veritas. Their hashtags vanishing from the Trending section and replaced by far less popular hashtags.
https://twitter.com/Cameron_Gray/status/797843040006242304?ref_src=twsrc%5Etfw
Milo himself states – "This is the end for Twitter. Anyone who cares about free speech has been sent a clear message: you're not welcome on Twitter" and it seems he is correct.  These are the same people that want to put a known sexual predator back in the White House by electing his enabler.  These are also the same people that continue to perpetuate a myth that a bogus lawsuit that has been dismissed on 3 separate occasions is somehow "proof" of wrongdoing on the part of Trump. Yet these same people claiming to be so loving and so tolerant will advocate the rape of a woman in the process.  You people make me sick!  You are disgusting and vile and frankly, everything that is wrong with America!
Do you remember this sort of behavior from Republicans and Conservatives when Obama was elected to office?  Yeah, me neither.
h/t – Breitbart
I VOTED FOR DONALD TRUMP AND TOGETHER WE WILL MAKE AMERICA GREAT AGAIN!
Dean James III% AMERICA'S FREEDOM FIGHTERS
 Please share this on all Social Media!
Facebook Has Banned Us!
The leftists at Facebook decided they didn't like our message, so they removed our page and are censoring us. Help us fight back and subscribe to our newsletter so that you can stay up-to-date with everything Facebook doesn't want you to see!
Disqus Comments