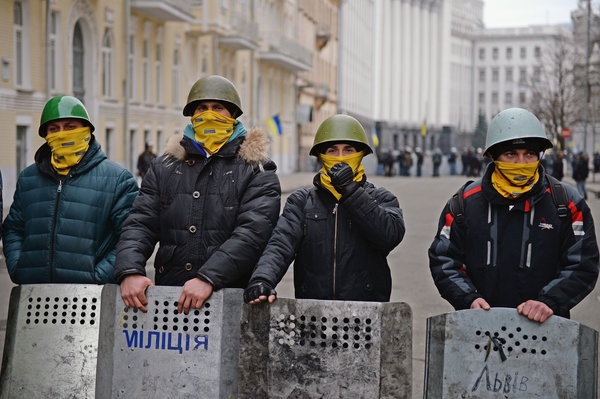 AMERICAS FREEDOM FIGHTERS!
There is only one way to throw off a tyrannical government and to remove a dictator, in Ukraine or any other country. Like America. Like Obama. Like 1776!
NY Times KIEV, Ukraine — An opposition unit took control of the presidential palace outside Kiev on Saturday, as leaders in Parliament said Ukraine's president, Viktor F. Yanukovych, had fled the capital a day after a deal was reached aimed at ending the country's spiral of violence.
Members of an opposition group from Lviv called the 31st Hundred — carrying clubs and some of them wearing masks — were in control of the entryways to the palace Saturday morning. And Vitali Klitschko, one of three opposition leaders who signed the deal to end the violence, said that Mr. Yanukovych had "left the capital" but his whereabouts were unknown, with members of the opposition speculating that he had gone to Kharkiv, in the northeast part of Ukraine.
Protesters claimed to have established control over Kiev. By Saturday morning they had secured key intersections of the city and the government district of the capital, which police officers had fled, leaving behind burned military trucks, mattresses and heaps of garbage at the positions they had occupied for months.
ADVERTISEMENT - STORY CONTINUES BELOW
In Independence Square, the focal point of the protest movement, however, the mood was one of deep anger and determination, not triumph. "Get out criminal! Death to the criminal!" the crowd chanted, reaffirming what, after a week of bloody violence, has become a nonnegotiable demand for many protesters: the immediate departure of Mr. Yanukovych. source – NY Times VIA NOW THE END BEGINS
Facebook Has Banned Us!
The leftists at Facebook decided they didn't like our message, so they removed our page and are censoring us. Help us fight back and subscribe to our newsletter so that you can stay up-to-date with everything Facebook doesn't want you to see!
ADVERTISEMENT - STORY CONTINUES BELOW
Disqus Comments