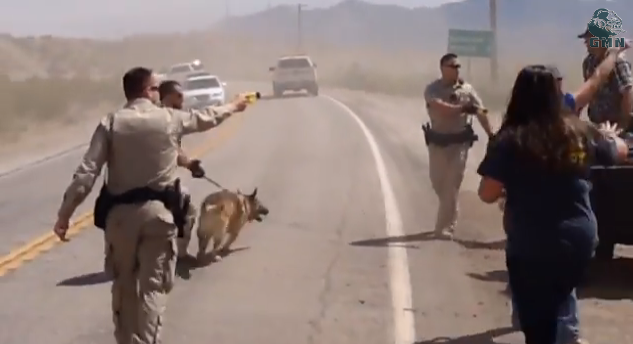 In a scene that can only be described as something that you would witness in a third world country, and not in America, the so-called land of the free. Pete Santilli captured the Federal goons of the BLM, throwing down a 57 yr old woman with Cancer to the ground, a pregnant woman attacked by k9 dogs, and one of the Bundy family members being Tased 3 times. All because the Bundy Family saw a convoy of dump trucks and backhoe's that they assumed were there to bury the cattle that the feds were killing in the process of rounding them up with helicopters.  Still, through all this the Bundy ranch protesters stood their ground against the tyranny of the BLM yet again, and caused them too again flee as the cowards that they truly are. 
take our poll - story continues below
Completing this poll grants you access to AFF updates free of charge. You may opt out at anytime. You also agree to this site's Privacy Policy and Terms of Use.
Please, we need everyone that is in an area that is within driving distance of the Bundy Ranch, to mobilize now to the defense of your fellow American brothers and sisters. Also remember this, the feds Agenda 21 program will not stop with the Bundy family, and you can bank on the fact that they will be coming for your land next.
ADVERTISEMENT - STORY CONTINUES BELOW
Like this article?
ADVERTISEMENT - STORY CONTINUES BELOW