Sassy Liberty AMERICA'S FREEDOM FIGHTERS –
The black magazine known as Essence announced Monday in their May "100 Woke Women" issue they intend to honors the Pussy hat wearing, Shariah Law supporting, Pro Female Genital Mutilation supporting Linda Sarsour as one of its feminist so-called "woke" women.
It seems the only thing they got right is that she IS indeed a woman.
ADVERTISEMENT - STORY CONTINUES BELOW
This is a woman that once took to social media to publicly attack a woman that was a victim of female genital mutilation, telling her she didn't deserve to be a woman and she wished she could "take away her vagina."
"Brigitte Gabriel = Ayaan Hirsi Ali. She's asking 4 an a$$ whippin'. I wish I could take their vaginas away- they don't deserve to be women," Sarsour tweeted out in 2011.
All three of the women fled war-torn countries was refugees.  However, it seems the women have radically different outlooks on how they have chosen to respond to the opportunities they have been granted in America.
Twitter is forever: Women's March leader Linda Sarsour wants to grab Ayaan Hirsi Ali by the p*ssy. pic.twitter.com/XNZIwTwoE5

ADVERTISEMENT - STORY CONTINUES BELOW

— Shireen Qudosi (@ShireenQudosi) January 26, 2017
Brigitte Gabriel is the founder of ACT for America and she routinely speaks out against radical Islamic terror. Ayaan Hirsi Ali, who founded the AHA Foundation, was a victim of female genital mutilation.
Both women actively speak out against the radical Islam that they fled, yet for some unknown reason Sarsour is an honored feminist in America and considered "woke."  She is allowed to publicly attacked the victims of horrific crimes, crimes that are outlaws by international treaties worldwide, and this sorry excuse for humanity is lauded as the epitome of feminism.
Sarsour who lauds herself as a feminist voice and is considered "woke" by Essence once tweeted of how wonderful Saudi Arabia was simply because they have a paid maternity leave program –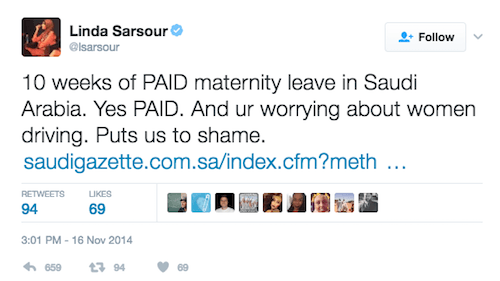 Sarsour dismisses the fact that women in Saudi Arabia are treated as second-class citizens who are unable to drive, interact with men, and dress as they please as inconsequential.  Saudi women were recently just given an upgrade in status, going from object to mammal — this means that rather than being treated much like a home appliance a woman has a shared legal status now more in line with a beloved pet in Saudi Arabia.
THIS is what so-called "woke" feminist Linda Sarsour supports?
What Essence magazine promotes as WOKE?
God Bless.
Here's How To Be Sure To Continue Seeing Our Content On Facebook
TOGETHER WE WILL MAKE AMERICA GREAT AGAIN!
Dean James III% AMERICA'S FREEDOM FIGHTERS
Please like and share on Facebook and Twitter!
Facebook Has Banned Us!
The leftists at Facebook decided they didn't like our message, so they removed our page and are censoring us. Help us fight back and subscribe to our newsletter so that you can stay up-to-date with everything Facebook doesn't want you to see!
Disqus Comments