FAUCI IS "SURE" COVID VACCINE WILL BE MANDATORY FOR SCHOOL OR TRAVEL
Among other things, Dr. Anthony Fauci, one of the United State's head tyrants trying to usher in the New World Order, is "sure" that the COVID-19 vaccine no one wants will be mandatory for school or traveling. Institutions could "mandate" the vaccine for the government, so they literally won't have to write it into policy.
Institutions like hospitals and possibly schools will mandate that a person receives a COVID-19 vaccination, Dr. Anthony Fauci predicted. "I would not be surprised, as we get into the full scope of [COVID-19] vaccination, that some companies, some hospitals, some organizations might require [COVID-19] vaccination," he said in an interview with Newsweek.
ADVERTISEMENT - STORY CONTINUES BELOW
There has already been quite a bit of talk on how to "punish" those who decide they don't want this concoction swimming around in their veins.
For all intents and purposes, the COVID-19 vaccine should be "mandatory" says one medical journal, and noncompliance should be harshly punished.  And if you refuse to take the new vaccine, you should face losing your job and be forbidden from leaving your own house until you comply.

Non-compliance with the new coronavirus vaccination program could result in a penalty.  Medical journals are already discussing ways to convince people to take the shot, and if you don't they are figuring out other ways to punish those pesky dissenters. With over half the United States population reportedly unwilling to submit to an experimental COVID-19 shot, a new scientific paper has shed light on how state health authorities might enforce compliance with vaccine mandates, according to a report by RT. 
"I'm not sure [the vaccine is] going to be mandatory from a central government standpoint, like federal government mandates," he said. "But there are going to be individual institutions that I'm sure are going to mandate it."
ADVERTISEMENT - STORY CONTINUES BELOW
Fauci pointed to his own experience with the National Institutes of Health, which mandates all employees and contractors receive yearly influenza and Hepatitis B vaccines. "I have to get certified every year," he told Newsweek. "If I didn't, I couldn't see patients. So in that regard, I would not be surprised, as we get into the full scope of [COVID-19] vaccination, that some companies, some hospitals, some organizations might require [COVID-19] vaccination."
Fauci also said schools will be mandating to vaccine too and it is also "quite possible," he said, that the vaccine will be required for travel to and from the United States. "Everything will be on the table for discussion" within the incoming Biden administration, he said. The Biden transition team did not immediately respond to a request for comment.
The decision to standardize the vaccine as a travel requirement is not one that Fauci can make, he said. But he thinks it would be a smart move, he told Newsweek.

"Yellow fever's a good example. So we, in this country, don't require [people] to get a yellow fever vaccine when you go [to] some place. It's the place to which you are going that requires it," he said. "I went to Liberia during the ebola outbreak. I had to get my yellow fever vaccine or they would not let me into Liberia." –Yahoo News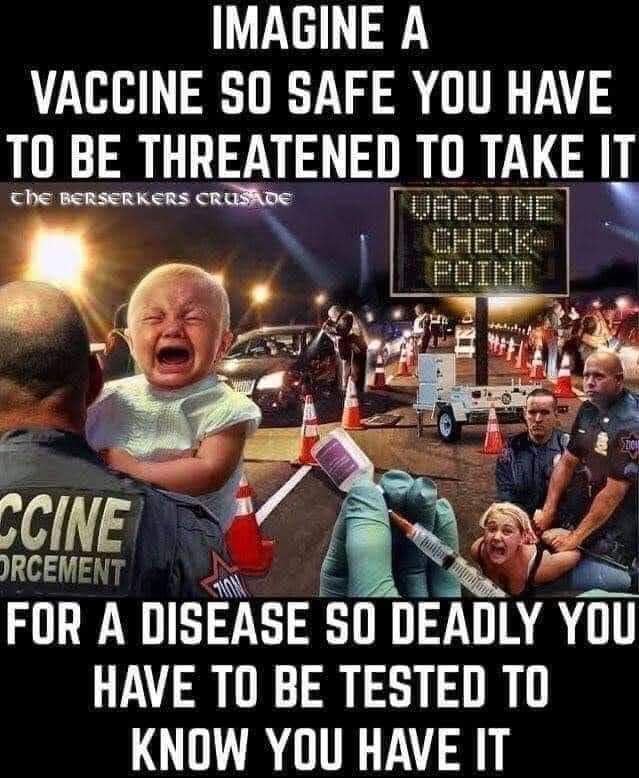 FYI – A World Health Organization chief scientist has said that there is no evidence that any of the approved vaccines will prevent a person from getting infected with COVID-19.  This scamdemic is never-ending and the hoax is becoming more apparent by the day.
The comments were made by WHO chief scientist Soumya Swaminathan during what appears to have been a virtual press conference held Monday. Swaminathan said there is "no evidence to be confident shots prevent transmission" and that people who receive the vaccine should continue wearing masks and following all social distancing and travel guidelines. She's not the only tyrant to suggest the vaccine is worthless, yet you should get it anyway and still wear your ritualistic shame muzzle signaling your submission to the New World Order cult.
This article was written by Mac Slavo at SHTFplan.com and was republished with permission.
RELATED ARTICLES:
Let us know what you think in the comments below!
Sick of the censorship and election meddling?
Then join us at SPREELY and PARLER!
It's time to enjoy social media again… without the filthy Communist censorship!
DINO PORRAZZO at AMERICAS FREEDOM FIGHTERS
ADVERTISEMENT - STORY CONTINUES BELOW
Join me on Twitter! 
God Bless.
Facebook Has Banned Us!
The leftists at Facebook decided they didn't like our message, so they removed our page and are censoring us. Help us fight back and subscribe to our newsletter so that you can stay up-to-date with everything Facebook doesn't want you to see!
Disqus Comments