Sassy Liberty AMERICA'S FREEDOM FIGHTERS – 
Bradley Manning has become something of a liberal leftist political icon.  A former U.S. Army private who sold out his brothers in arms by giving tens of thousands of classified documents to the whistleblower organization Wikileaks. He was convicted of a capital offense, "aiding the enemy."  Imprisoned in 2010 at Leavenworth, he served seven years before being pardoned for his crimes by Barack Obama.
Manning dumped some 700,000 military documents to Wikileaks while he was serving in the United States Military as an intelligence analyst. As The Daily Wire previously reported, Manning's dump likely got Americans killed:
ADVERTISEMENT - STORY CONTINUES BELOW
It remains unclear how many, if any Americans were killed due to the leaks. But Arizona Senator John McCain said in January of 2017 that he's confident the Taliban used the information and retaliated against those named. McCain told Fox News host Bill O'Reilly he felt "sorrow for the families of those individuals who identified in these leaks in Afghanistan that the Taliban went after and murdered. And rage because this president is basically endorsing a proposal that allows someone to go free who is responsible for the needless deaths of those people who are allies. … Let me be specific. The information I received when I was there was that the Taliban went after these people. I assume, killed them."
take our poll - story continues below
Completing this poll grants you access to AFF updates free of charge. You may opt out at anytime. You also agree to this site's Privacy Policy and Terms of Use.
While in prison Bradley came out as a transgender and had a sex change.  He now calls himself Chelsea.  In signifying his "hero" status to the left, Manning is being featured in the September issue of Vogue magazine.
ADVERTISEMENT - STORY CONTINUES BELOW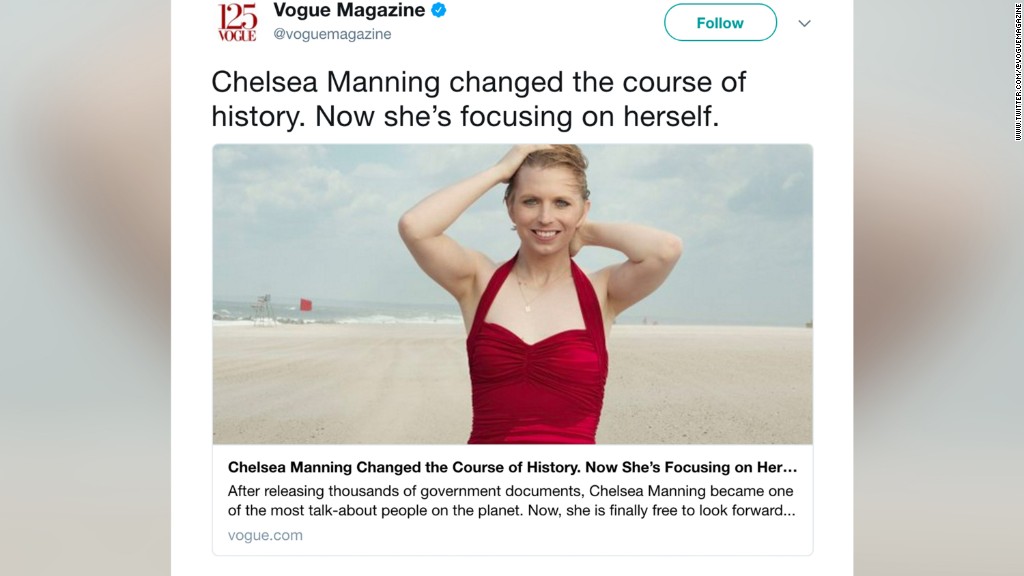 As such the left is drooling all over themselves to pander to the man that mutilated himself to make himself a "woman."
ADVERTISEMENT - STORY CONTINUES BELOW
The article in Vogue sings Mannings praises to the high heavens –
"[Manning is] standing, greeting new faces from all sides, thanking, thanking some more.

Her left arm is crossed over her belly, cradling her opposite elbow, which is straight. When Beyonce's "Love on Top" begins its climbing modulations, she uncrosses her arms and begins — mindlessly, flirtatiously — with the charm on her gold necklace, drawing it back and forth between her thumb and forefinger. She sways. She lets herself lean forward, laughing at a joke. When her newest friend wanders away, she turns around and smiles."
guess this is what freedom looks like ????‍♀️?‍♀️⛴️??️?️ @voguemagazine https://t.co/g7YYNkcd9l ??? https://t.co/nyAUje52bE pic.twitter.com/n4ixFkIdVn

— Chelsea E. Manning (@xychelsea) August 10, 2017
In yet another case of leftist propaganda, Vogue spouts lie after lie about what Manning did, praising him for leaking "the so-called Collateral Murder video, showing a U.S. helicopter killing a group of Baghdad pedestrians that included children and press."
The video in question does not show the killing of "Baghdad pedestrians" as Vogue purports.  It actually shows the lawful targeting of insurgents armed with rifles and a grenade launcher. These so-called "Baghdad pedestrians" actually threatened a U.S. Army unit that suffered one of the highest casualty rates of any unit in Iraq. Vogue perpetuates the myths like so many American enemies and misrepresents the truth for propaganda effect.
The Left has their hypocrisy on in full regalia as they in one breath attack Russian intelligence operations against the U.S. yet in the next breath completely forget just who it was that Manning leaked information to in the first place.
Apparently, Vogue now renders works of fiction.
So while the Left hails this traitor a hero, a person so confused he mutilated himself because he was unable to determine his gender, spare a thought for those that lost their lives as a result of his actions and for those that served with much more honor and distinction than he ever did. Those men and women will never get a profile in Vogue, nor will they likely even be mentioned as they do not advance the Leftist Progressive propaganda piece.
(h/t The Daily Wire)
FOLLOW us on Facebook at Nation In Distress!
Copyright 2017 Americas Freedom Fighters/ AFF Media. All rights reserved. This material may not be published, broadcast, rewritten or redistributed without expressed permission.
Facebook Has Banned Us!
The leftists at Facebook decided they didn't like our message, so they removed our page and are censoring us. Help us fight back and subscribe to our newsletter so that you can stay up-to-date with everything Facebook doesn't want you to see!
Disqus Comments