A time capsule was found at the base of a Confederate monument known as "Johnny Reb." The large marble monument stood as a fixture in Orlando's Lake Eola Park for over a century and it was dedicated to honoring soldiers who lost their lives in defense of the Confederate States of America.
It was recently removed as part of a larger effort to erase history by Communists, SJWs, racists, and race baiters calling the memorial an "ode to white supremacy" and the city chose to cave into political pressures from a group called  "Organize Now" rather than listen to the wishes of many locals, historical preservationists, and Southern historical advocates.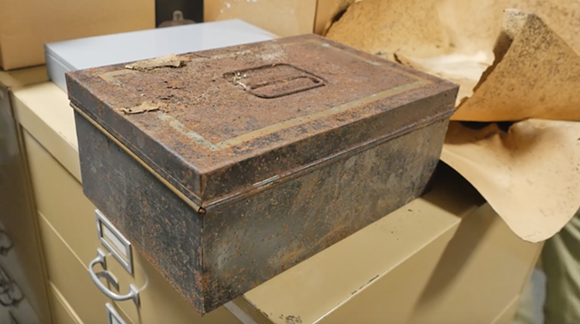 ADVERTISEMENT - STORY CONTINUES BELOW
In yet another slap in the face, Orlando's Historic Preservation Board chose to open the time capsule. The monument was placed by the United Daughters of the Confederacy along with the time capsule.
Another Confederate Monument TAKEN DOWN- LOOK What They Found UNDERNEATH It!
take our poll - story continues below
Whom do you consider to be the most corrupt Democrat Politician?
Completing this poll grants you access to America's Freedom Fighters updates free of charge. You may opt out at anytime. You also agree to this site's Privacy Policy and Terms of Use.
The group dates back to 1894 and still has a presence in the historical community. The group feels, as do other local historians that the time capsule should be returned to the group that placed it and opened by them. However, the Orlando Historic Preservation Board chose to ignore their wishes and moved forward.
ADVERTISEMENT - STORY CONTINUES BELOW
Inside the 100+ year old time capsule: Confederate money, a letter dated Feb. 15,1911 #Fox35 pic.twitter.com/634dudcj1Q

ADVERTISEMENT - STORY CONTINUES BELOW

— David Williams (@DWilliamsTV) August 8, 2017
The time capsule is about the size of a small money box, weighs about three pounds and may have been in the monument for more than 100 years. The Daughters of the Confederacy group said their records indicate the capsule contains a battle flag, some Confederate money and a framed picture of General Robert E. Lee. The monument and the time capsule were originally placed on Magnolia Avenue in 1911 after it was commissioned by a local chapter of the United Daughters of the Confederacy.
Inside the 100+ year old time capsule from Lake Eola's Confederate Statue #Fox35 pic.twitter.com/eSfeSpYwGZ

— David Williams (@DWilliamsTV) August 8, 2017
Inside the time capsule, Confederate money, a letter from 1911, newspaper clippings and other historic historical documents were found inside the rusted metal box.  The box also contained three newspapers, from the South Florida Sentinel, Orange County Citizen and the Daily Reporter-Star, dated 1911 — confirming historians' belief the statue was installed that year. The Orlando Historical Preservation Society states they plan to process, categorize and preserve the findings for archive purposes, however, there are fears from other historical groups that these documents will not be preserved but will instead be destroyed as part of the larger effort to remove parts of history deemed symbolic of racism or white supremacy.
Inside the 100+ year old Time Capsule pic.twitter.com/f2pZ19Wc78

— David Williams (@DWilliamsTV) August 8, 2017
The monument itself was moved to Greenwood Cemetery where a plot of land stands for Confederate soldiers and is slotted to be reassembled.  Many feel the memorial has been relegated to "the closet" so to speak.
The monument was removed in in the wake of the memorial held for the Orlando Pulse nightclub shooting where radical Islamist Omar Mateen killed 49 people and wounded 58 others in the gay nightclub in honor of ISIS on June 12, 2016.
David McCallister told commissioners they are setting a dangerous precedent for the treatment of military veterans, stating –
"Putting the monument away in a cemetery would be banishing it into the closet of obscurity. I didn't think Orlando liked closets. A move like this would be seen as disuniting and offensive."
Source- AFF 
America is in for 4 years of HELL! Let us know what you think in the comments below!
Sick of the censorship and basement dwelling liberal scumbags fact checking you?
Then sign up and join us at SPREELY , WeGo, Gab, Codias, Mumblit, Vomvos and WorldAnon!
It's time to enjoy social media again… without the filthy Communist censorship!
DINO PORRAZZO at AMERICAS FREEDOM FIGHTERS
God Bless.
Facebook Has Banned Us!
The leftists at Facebook decided they didn't like our message, so they removed our page and are censoring us. Help us fight back and subscribe to our newsletter so that you can stay up-to-date with everything Facebook doesn't want you to see!
Disqus Comments