Sassy Liberty AMERICA'S FREEDOM FIGHTERS – 
Wikileaks has revealed yet another way that ordinary American citizens are being targeted by the CIA for personal surveillance. It seems not even Wi-Fi routers are safe and it has been revealed that the CIA has been targeting WiFi routers to conduct surveillance for several years, according to documents just recently released.
Wikileaks states –
ADVERTISEMENT - STORY CONTINUES BELOW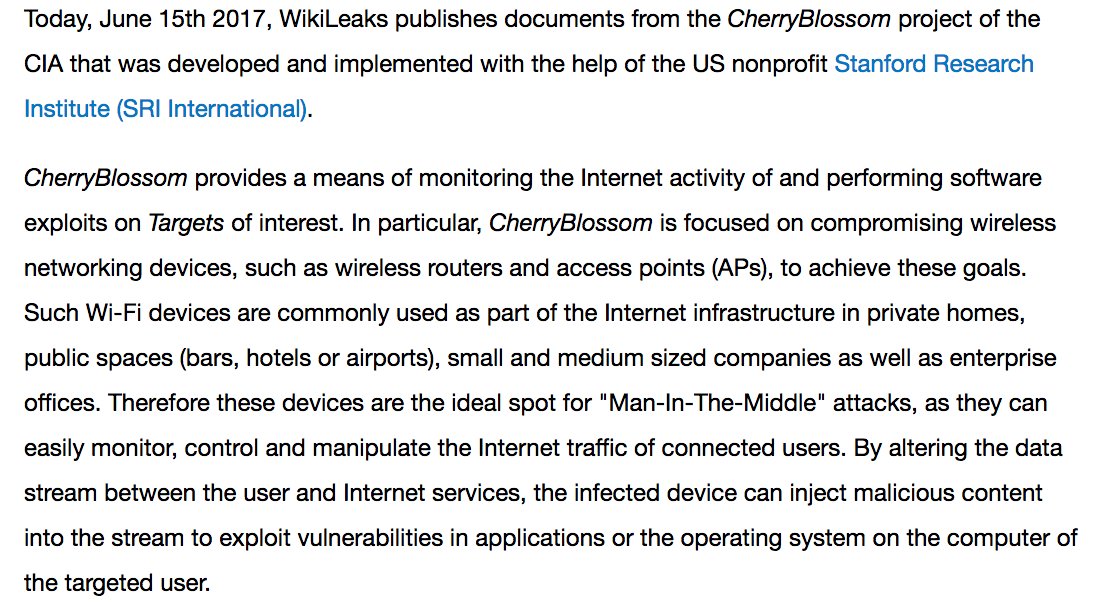 Documents released by the whistleblower organization reveal that the agency could allegedly monitor Internet users' activity using an advanced firmware known as Cherry Blossom. This technology allows for the manipulation of individual browsers and allows the agency to look for personal data such as phone numbers, email addresses, bank accounts, credit card numbers, and much more.
Using Cherry Blossom, the government intelligence agency could monitor user's internet activity without anyone being the wiser. The technology also affords the government agency the ability to literally redirect and/or manipulate a person's browser without their knowledge or person.
HOLY 4TH AMENDMENT BATMAN!
take our poll - story continues below
Completing this poll grants you access to AFF updates free of charge. You may opt out at anytime. You also agree to this site's Privacy Policy and Terms of Use.
"CB maintains an information database of wireless network devices," according to the user's manual, which "contains information about hundreds of network devices including manufacturer, make, model, version, reference design, FCC ID, network processor, wireless chipset, operating system, default username/password, etc."
ADVERTISEMENT - STORY CONTINUES BELOW
The user manual is a 175-page guidebook that essentially shows the CIA developed implants that can essentially infect a computer network for products from a number of different manufacturers, like Linksys, Netgear, Motorola, Dell, and Belkin.
ADVERTISEMENT - STORY CONTINUES BELOW
Wikileaks released a large cache of information back in March that revealed once-classified files from the CIA.  The files demonstrated the CIA had a number of "secret"-labeled maps that appear to be visual instructions for further hacking mechanisms. That cache of information released by Wikileaks also included the methods the CIA used to hack into people's televisions and other electronics.
In one of many techniques called "Weeping Angel," the CIA's Embedded Devices Branch (EDB) would infest and take over smart TVs, transforming them into surreptitious microphones and record people's conversations with no detection. The CIA and MI5 worked together developing viruses designed to turn Samsung Smart Televisions into household bugs.  The televisions record audio and send data to covert computer servers.
PAGING GEORGE ORWELL!!! 1984 IS CALLING!!!
Forget the NSA….forget wiretapping. Apparently the very idea of having a WiFi router in your home makes you a CIA target. You may want to mind your manners and refrain from saying anything the CIA may be interested in. Next thing you know, they will take our thoughts away.
Source- AFF 
FOLLOW us on Facebook at Nation In Distress!
Copyright 2017 Americas Freedom Fighters/ AFF Media. All rights reserved. This material may not be published, broadcast, rewritten or redistributed without expressed permission.
Facebook Has Banned Us!
The leftists at Facebook decided they didn't like our message, so they removed our page and are censoring us. Help us fight back and subscribe to our newsletter so that you can stay up-to-date with everything Facebook doesn't want you to see!
Disqus Comments