A sergeant in the Harris County Sheriff's Office in Houston was treated for exposure to fentanyl after he touched a flyer left on the windshield of his car, Breitbart reports.
A sheriff's office sergeant was treated for exposure to the drug which can be fatal, even in small doses, officials stated. The flyers tested positive for the presence of fentanyl.
Investigators are asking anyone who may have seen someone distributing the flyers or who may have seen them elsewhere to contact police immediately.
ADVERTISEMENT - STORY CONTINUES BELOW
The flyer was one of several placed on nearly a dozen sheriff's office vehicles at HCSO's recruitment and criminal investigations center at 601 Lockwood Drive in east Houston, according to Harris County Sheriff Ed Gonzalez.
take our poll - story continues below

Whom do you consider to be the most corrupt Democrat Politician?

Completing this poll grants you access to AFF updates free of charge. You may opt out at anytime. You also agree to this site's Privacy Policy and Terms of Use.

"She caught it quickly," Gonzalez said. "We do know from our experience with fentanyl is that it can be very deadly. It's 100 times more potent than morphine."

ADVERTISEMENT - STORY CONTINUES BELOW

She was rushed to the hospital and is expected to survive as authorities investigate the flyers' origination. She was released around 4:30 p.m., authorities said, Local Houston News reports.
URGENT: Flyers placed on the windshields of some #HCSO vehicles this afternoon at 601 Lockwood have tested positive for the opiod Fentanyl. One sergeant who touched a flyer is receiving medical treatment. Call authorities if you see these flyers and DO NOT TOUCH. #hounews #lesm pic.twitter.com/1mp03U8OGn

ADVERTISEMENT - STORY CONTINUES BELOW

— HCSOTexas (@HCSOTexas) June 26, 2018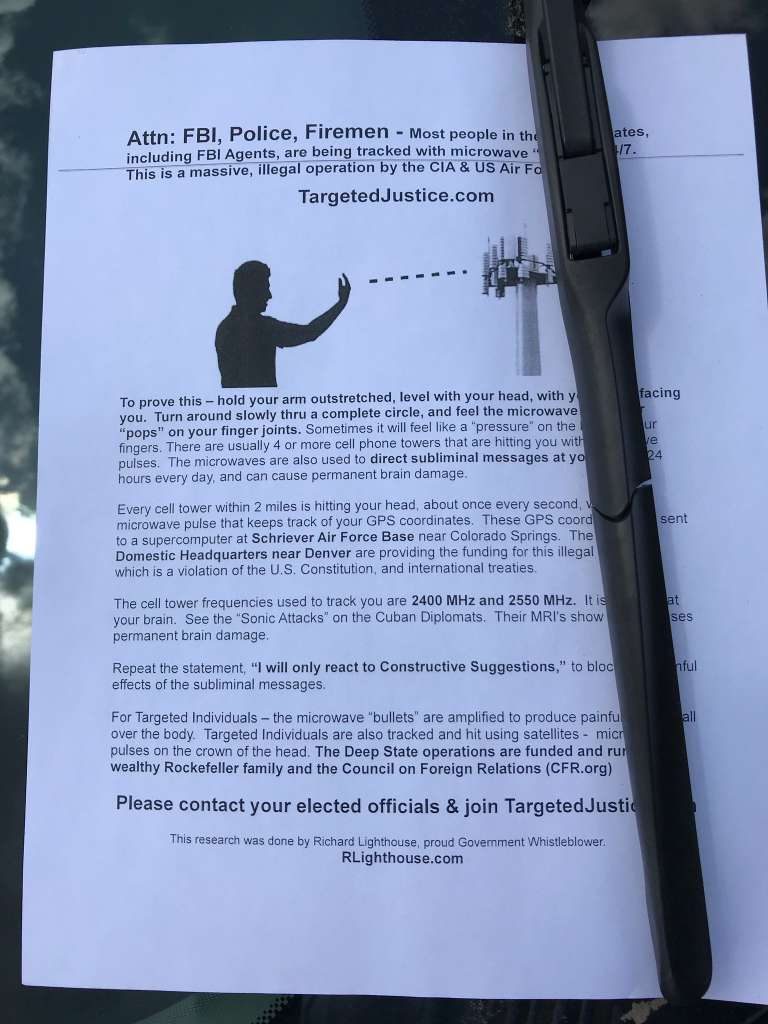 Flyer left on windshield of Harris County Sheriff's Office sergeant tested positive for the presence of fentanyl. (Photo: Harris County Sheriff's Office)
Fentanyl is a powerful synthetic opioid analgesic that is similar to morphine but is 50 to 100 times more potent.  It is a schedule II prescription drug, and it is typically used to treat patients with severe pain or to manage pain after surgery. It is also sometimes used to treat patients with chronic pain who are physically tolerant to other opioids. In its prescription form, fentanyl is known by such names as Actiq®, Duragesic®, and Sublimaze®.Street names for fentanyl or for fentanyl-laced heroin include Apache, China Girl, China White, Dance Fever, Friend, Goodfella, Jackpot, Murder 8, TNT, and Tango and Cash.
The high potency of fentanyl greatly increases risk of overdose, especially if a person who uses drugs is unaware that a powder or pill contains fentanyl.
Fentanyl's effects resemble those of heroin and include euphoria, drowsiness, nausea, confusion, constipation, sedation, tolerance, addiction, respiratory depression and arrest, unconsciousness, coma, and death. NIDA (National Institute on Drug Abuse)
Chris "Badger" Thomas is a Veteran who served our country as an Army Combat Medic.
When you share to your friends you greatly help distribute our content. Please take a moment and consider sharing this article with your friends and family. Thank you, we appreciate it!
Facebook Has Banned Us!
The leftists at Facebook decided they didn't like our message, so they removed our page and are censoring us. Help us fight back and subscribe to our newsletter so that you can stay up-to-date with everything Facebook doesn't want you to see!
Disqus Comments