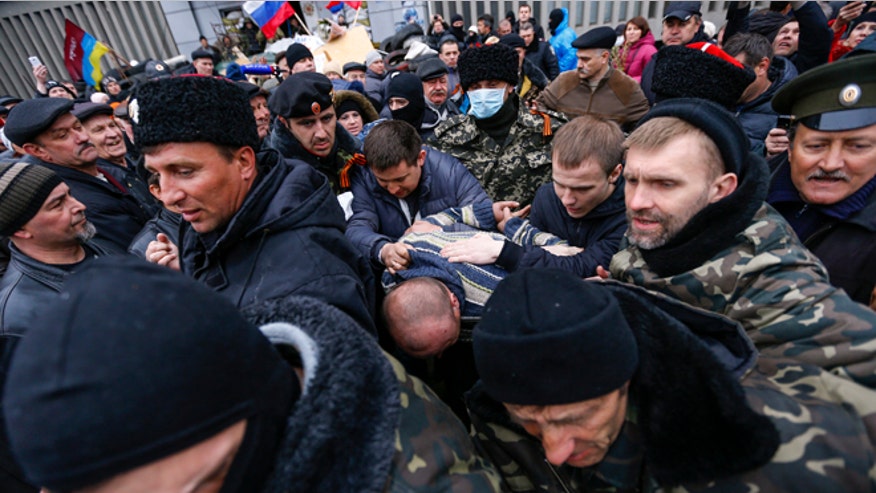 April 13, 2014: Pro-Russian protesters escort a man detained in eastern Ukraine.REUTERS
WASHINGTON –  U.S. Army paratroopers are arriving in Poland on Wednesday as part of a wave of U.S. troops heading to shore up America's Eastern European allies in the face of Russian meddling in Ukraine. 
Pentagon press secretary Rear Adm. John Kirby said an initial contingent of about 600 troops will head to four countries across Eastern Europe for military exercises over the next month.
First, about 150 soldiers from the 173rd Airborne Brigade Combat Team based in Vicenza, Italy, are arriving in Poland.
Additional Army companies will head to Estonia, Latvia and Lithuania and are expected to arrive by Monday for similar land-based exercises in those countries.
The show of strength comes as the United States, European allies and Ukraine try to ease tensions with Russia and pro-Russian separatists in eastern Ukraine. All sides struck a diplomatic agreement last week, but it remains unclear whether pro-Russian demonstrators, who took over a series of government buildings in the wake of Russia's annexation of Crimea, will back down.
Under the current plan, U.S. troops would rotate in and out of the four Eastern European countries for additional exercises on a recurring basis.
"We're looking at trying to keep this rotational presence persistent throughout the rest of this year," Kirby told reporters, adding that over time the exercises could expand to other countries.
The exercises are part of an effort announced last week by Defense Secretary Chuck Hagel aimed at reassuring NATO allies of America's commitment to the region's defense.
Kirby said the U.S. will likely plan other exercises and will continue to work through NATO on joint measures that could be scheduled in the future.
"It's a very tangible representation of our commitment to our security obligations in Europe, and the message is to the people of those countries and to the alliance that we do take it seriously. And we encourage our NATO partners to likewise look for opportunities of their own to do this same kind of thing for one another," said Kirby. "And I think if there's a message to Moscow, it is the same exact message – that we take our obligations very, very seriously on the continent of Europe."
Armed pro-Russia groups have occupied areas in eastern Ukraine and have refused to leave until the country's acting government resigns. There was a burst of violence Sunday, with three people killed during a shootout at a checkpoint manned by pro-Russian troops. The U.S. has asserted that some of the troops are Russian special operations forces, and officials are pressing Russian to abide by an international accord aimed at stemming the crisis in Ukraine.
The Associated Press contributed to this report.
See more at FOX NEWS
Facebook Has Banned Us!
The leftists at Facebook decided they didn't like our message, so they removed our page and are censoring us. Help us fight back and subscribe to our newsletter so that you can stay up-to-date with everything Facebook doesn't want you to see!
Disqus Comments